The Bacon 'Bag: Rory McIlroy's FedEx run; home-field Ryder edge; long-putter switch
Our weekly Eye on Golf mailbag takes a look at Rory McIlroy's chances at the Tour Championship, home field advantage at the Ryder Cup and when you should switch to a belly putter.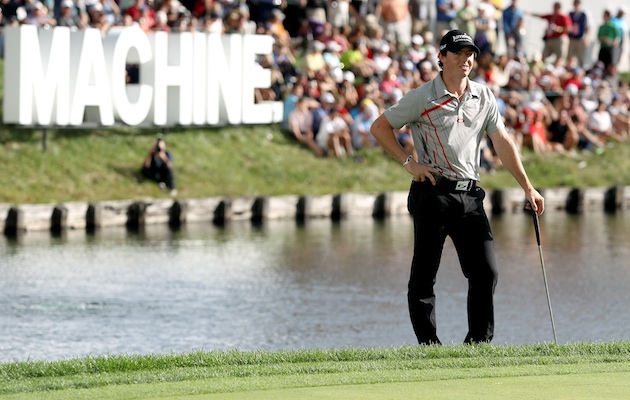 In these playoffs, Rory McIlroy really has been a machine. (Getty Images)
Golf is full of questions. How do I hit it farther? How do I break 90? What is wrong with Tiger Woods? Why are you such an idiot?

It's a game that will never be figured out in the millions of years people will play it, but it's fun to try to figure it out. Every week, it'll be you guys that help us answer the in-depth (and ridiculously fun) questions about the game. Have a question? Fire it our way on Twitter to either @shanebacon or @eyeongolf with the hashtag "#eyeqs". We will pick out the best of the week, answer them as best we can, and continue this throughout the rest of the season.

So we begin right here with our weekly Q and A with the readers …
@shanebacon What's your call? Can Rory win @ East Lake? Would be 3 W's in a row & 4 out of 5 starts... #eyeqs

— Greg Howard (@GregoryHoward) September 11, 2012
A. Well, can he or will he is a completely different beast.
Can he? Of course, Rory McIlroy is the best golfer on the planet now, and I don't think there is anyone else even close. Tiger Woods has played some solid golf over the last month, but even he can't keep up with the phenomenon that is Rory (it's crazy, this is only the third time in the Tiger generation that we've had a guy who could win in bunches playing while Tiger also was playing). 
But will he? That's a different story. If the tournament was this weekend, McIlroy would be the clear choice. He would be rolling in with all the momentum in the world and ready to take the Tour Championship by storm. A week off, however, makes things a little dicey. 
My pick for East Lake (premature, of course) is Phil Mickelson. Lefty comes in with a newfound respect for his claw putting stroke and a swing that produced some incredible shots at Crooked Stick. I like Phil to take the final big event of the year.
But if McIlroy wins, would anyone in the world be surprised? Not that I know. 
@shanebacon @eyeongolf After the stellar play at the Deutsche Bank & BMW, are we in for a lunch bag letdown at the Tour Championship? #eyeqs

— Golfwerkz (@golfwerkz) September 10, 2012
A. I don't see how that would even be possible. We have 30 of the top tour players heading into the Tour Championship, with guys like Rory, Tiger, Phil, Dustin Johnson, Lee Westwood, and Adam Scott all playing well. 
Along with them, Luke Donald, Keegan Bradley, Hunter Mahan and Justin Rose are all going to be in the field. If you take a second to look at the FedEx Cup list, there really isn't a disappointing name on there (would you really be bummed if, say, Robert Garrigus won this event with all these big names in it? I wouldn't.). 
Golf tournaments tend to let you down right when things are building up, but I don't see this next week in Atlanta. There are too many big names playing great golf for the week to get away from us, and even if McIlroy won by eight shots, it would still be dramatic television to see this kid continue his run. 
@shanebacon In your opinion how big an advantage is hosting the Ryder Cup? #eyeqs

— Cam Gordon (@Cambo_Gordon) September 10, 2012
A.This is one of my favorite wrinkles about the Ryder Cup, and it plays a much bigger role than most observers think. 
If you recall 2010, Colin Montgomerie had the 15th hole play up most of the week, forcing some Americans to hit 3-woods off the tee, but giving the straight-hitting Europeans an advantage on the drivable par-4. It was a pivotal hole in those matches. It seemed anytime you'd turn around, the Europeans were closing out a match on this hole or putting a match nearly out of reach there. 
But just imagine you can do your best to work the golf course in your team's favor. Word is that this year's Medinah will have spotty rough since the American team seems to have a lot more bombers on the squad. If they miss a fairway or six, it won't hurt them as much as if the rough was U.S. Open thick.
Does it totally sway the event in one team's favor? No, you still must go out and hit golf shots and make putts (And it isn't like these Europeans players aren't over in the States all year, anyway). The home field advantage in the Ryder Cup is worth at least a point-and-a-half or two. 
@shanebacon Long time first time. How terrible, how ABSOLUTELY AWFUL do you have to be at putting before switching to a long putter is okay?

— Justin (@jtbourne) September 5, 2012
A. Fortunately, I have never switched to the broomstick. I don't think it's a bad move, especially if you're an amateur, but I figured I'd ask a double-digit handicap friend of mine who has experimented. 
This is my buddy, Dave, who works for TaylorMade.
"If you are an average golfer and not under 30 putts per round, I think it's OK to 'experiment' and try new things. For me, I came across a split-grip long putter (about 50"). I rolled a few putts in the office, then on a putting green and decided to go with it for the next several rounds. What I noticed was that I was swinging the putterhead rather than hitting the ball. The ball rolled better, and I was making more putts. I felt like a pitcher who received advice to just 'throw' the ball rather than 'aim' it. ... If you are an average putter or someone who frequently 3-putts, I would recommend trying a nontraditional putter to learn what a real stroke feels like."
Now, that doesn't necessarily answer your immediate question about just how bad you have to be to switch. My honest answer is, not that bad. I think putting and chipping is the biggest difference between a single-digit handicap and someone who struggles to break 90-100, so anything that makes that easier is a smart move.
Also, if Adam Scott can do it, so can you. 
This season will fascinate as old stars converge with up-and-coming superstars

With a single golf lesson up for auction, Tiger Woods changed some lives forever in Texas this...

The Days have had a rough 2017 from beginning to end
Why in the world would a former FedEx Cup winner hop on 24 hours worth of flights this wee...

Following the debacle at the ANA Inspiration earlier in 2017, Thompson has some thoughts

Fowler is as good as it gets on the PGA Tour