The Bacon 'Bag: Rory's Player of the Year chances, Ryder Cup and my hole-in-one odds
Our weekly mailbag looks at Rory McIlroy's Player of the Year chances, the Ryder Cup picks and when, if ever, I'll make my first hole-in-one.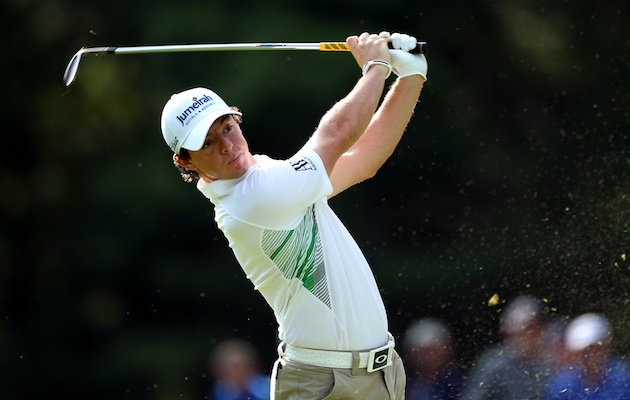 Is Rory McIlroy the Player of the Year? We sure think so. (Getty Images)
Golf is full of questions. How do I hit it further? How do I break 90? What is wrong with Tiger Woods? Why are you such an idiot?

It's a game that will never be figured out in the millions of years people will play it, but it's fun to try to figure it out. Every week, it'll be you guys that help us answer the in-depth (and ridiculously fun) questions about the game. Have a question? Fire it our way on Twitter to either @shanebacon or @eyeongolf with the hashtag "#eyeqs". We will pick out the best of the week, answer them as best we can, and continue this throughout the rest of the season.

So we begin right here with our weekly Q and A with the readers …
@shanebacon @eyeongolf Is it possible for Tiger Woods or anyone else to catch Rory McIlroy for Player of the Year? #eyeqs

— Golfwerkz (@golfwerkz) September 4, 2012
A. The short answer? No. 
The long answer? Absolutely not. No way. No chance. Not if Rory busted his knee in SEALS training and had to pull out of the rest of the FedEx Cup playoffs.
The Mark O'Meara Rule basically states, and I'm paraphrasing, that a major championship win trumps all else, and if you can follow that up with some other big victories, you're a shoe-in to take home the Player of the Year award.
Rory has as many wins as anyone on tour (three), and one of those was the PGA Championship, so yes, no matter what happens for the rest of the season, he's the Player of the Year and there shouldn't be any other vote.
That said, if Tiger Woods won the BMW Championship and the Tour Championship, I'd be interested to see how many of the voters ticked the box next to Tiger's name just because of who Tiger is. I still think Rory would win, but it would be interesting to see how many of the voters forgot the great year Rory has had if Tiger could close like an animal. 
@shanebacon Who's your pick for most successful American RC pairing? I'm hoping Keegan/Phil.

— David Berliner (@dbomaha) September 5, 2012
A. Well the boring, lame answer is Tiger Woods and Steve Stricker. The two have played some great team golf together (4-0-0 at the '09 Presidents Cup, 2-1-0 at the '10 Ryder Cup before playing only one match together at last year's Presidents Cup), but you never know what you'll get with Tiger at this event, so I'm not going with that pair.
I like your answer of Keegan Bradley and Phil Mickelson. Obviously Davis Love III hasn't announced who he's pairing together since the captain's picks just came out, but I like the idea of Keegan and Phil. Both played great last week at the Deutsche Bank, both seem to feed off the other's momentum (remember Riviera?), and they seem to genuinely enjoy each other's company. 
My sleeper team is Zach Johnson and Brandt Snedeker. I like the way they both approach the game, and I think it's easy to play with someone that can putt as well as you do. These guys know how to get the ball in the hole, and I can see them being the Silent Assassin team that could sneak two-and-a-half points away from the Europeans without anyone noticing. 
#eyeqs Seems like the Euro golfers have taken a step back this year (w/ the exception of Rory). Why isn't the US team a heavy Ryder Cup fav?

— Scott McCarthy (@sacsim) September 4, 2012
A. I'd have to agree with you that, on paper, the Europeans aren't nearly as intimidating as they've been in the past (Paul Lawrie, Francesco Molinari and Martin Kaymer don't exactly strike fear in your red, white and blue heart). 
That said, you know that when this competition begins, it doesn't matter who the Euros put out there, they're always going to be competitive. Ian Poulter is a Ryder Cup genius. So is Sergio Garcia, and they always have one guy (say, Peter Hanson this year?) who can go on a run with whoever he's paired with and become this year's American destroyer. 
But, Team USA is the favorite. According to Bovada, the Americans are a -140 to win the Ryder Cup, so it isn't like people are jumping behind this band of Europeans. 
Do I think the Americans have the best looking team on paper? Absolutely, Tiger, Phil, Dustin, Bubba and Keegan all look like they'll be ready to go when the matches begin, but we all know what good it does to judge either team on paper before it kicks off. 
The Ryder Cup might be the most unpredictable event on the entire golf calendar, and I think that's one of the reasons it's some of the best thing to watch in all of sports. 
@shanebacon Do you ever think you'll get a hole-in-one?

— Charlie (@CharlieTour) September 5, 2012
A. So a little background on this question here. The man who asks, a friend of mine, works for TaylorMade. A good player, this "Charlie" character had his first hole-in-one with me in the group, knocking it on a blind par-3, not even realizing it went in until I walked by the cup and casually told him he was buying drinks at the turn. 
Now I've played a ton of golf in my life. Junior golf, high school golf, mini-tour golf. I've played with Bubba Watson, Peter Jacobson and Gary Sheffield. I have never had a hole-in-one. My dad has never had a hole-in-one. Neither has my uncle. We call it the Bacon Curse. 
So the question is, do I THINK I'll ever make one? Golf Digest once reported that the odds of making a hole-in-one are 1 in 3,756 for a professional and 1 in 12,750 for an amateur. Now, not to toot my own horn, but I would put myself somewhere in the middle of those two, so that would put me at 1 in 8,253. 
Now, the normal golf course has four par-3s, so that means that I'll have to play 2,063.25 rounds of golf to give myself these odds at an ace. If I play twice a week, every week, for a year, that's 104 rounds of golf, so that means in 20 years, I should have my ace.
Or I could just hit a good golf shot for once on a par-3. That might also do it (Oh, and I still hate you, Kautz). 
The Days have had a rough 2017 from beginning to end

Why in the world would a former FedEx Cup winner hop on 24 hours worth of flights this wee...

Following the debacle at the ANA Inspiration earlier in 2017, Thompson has some thoughts
Fowler is as good as it gets on the PGA Tour

The USGA and R&A have decided that you will no longer be able to phone in penalties

The Spaniard captures another piece of hardware during an all-time season