The ending of the PGA Championship was not pretty
Rickie Fowler and Phil Mickelson were not thrilled about the way the PGA Championship and neither was anyone else.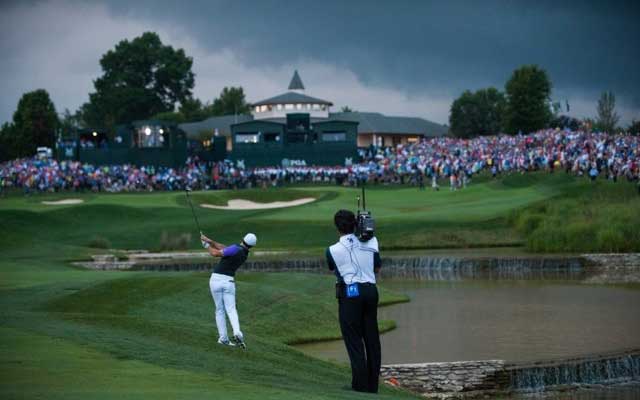 PGA Championship: Leaderboard | Photos |  Odds & picks |  Videos & GIFs |  Stories | Tiger
Well we at least need to have a chat about it.
"It" being whatever it was that happened on the 72nd hole of the 2014 PGA Championship on Sunday evening in the dark.
I was reeling well into the night after a bizarre ending to an incredible tournament and I'm sure I wasn't the only one.
As Bill Fields pointed out in the New York Times, the way the 18th hole started wasn't exactly unprecedented:
"We were cool with them hitting the tee shot," said Rickie Fowler.
But then things got weird. 
Rory McIlroy and Bernd Wiesberger hit their second shots on No. 18 towards the green before Phil Mickelson and Fowler had finished the hole. That's unusual, it doesn't happen, they essentially played as a foursome. Normally you all hit your tee shots together then the group in front plays the hole out.
"We weren't expecting the approach shots," said Fowler. "Typically if it's getting dark and they are going to blow the horn, you at least get the guys off the tee, and it gives them the opportunity to play."
So who was in charge of the whole thing? I'm still not sure anybody knows that one.
"Kerry Haigh, chief championships officer of the PGA of America, said it was his understanding that the players in the last group asked to play as four but were denied. He also said it was his understanding that the players allowed the final group to hit their approach shots to the green, which Fowler disputed."
Fowler also told ESPN that the tournament could have flipped because of how the hole played out but eventually stopped short of saying the outcome would have been different.
"It changes things a little bit," Fowler said. "Obviously, there is no waiting. Phil and I waited on the tee for a good amount of time and had to hit tee shots. In a way, [McIlroy and Wiesberger] never got out of rhythm as far as hitting the golf shots. I don't think it really changes it much. We were allowing them to hit the tee shots and we weren't expecting the approach shots to come." 
Mickelson agreed.
"It didn't affect the outcome of the championship at all, I don't think," said Mickelson. "Not what we normally do, but it's not a big deal either way."
Here's McIlroy's version of the incidents:
"Yeah, I suggested that we play up as a four," he said. "I didn't know if they wanted to do that or not. You know, to get this thing finished and get this thing over and done with; and the guys let us play up with our drives, and they didn't need to do that, they could have just left us on the tee box there and just play normally, but they showed a lot of class and a lot of sportsmanship by doing that."
That's true, but it still doesn't answer the question of who gave the go-ahead on the second shots of McIlroy and Wiesberger.
Here's Fields one more time:
"According to Haigh, who was not at the 18th tee but communicated with walking officials who were, it was Wiesberger who suggested playing up. Haigh said he was told by the officials that Fowler and McIlroy had discussed having the last twosome hit approach shots before Mickelson and Fowler completed the 18th."
I don't know that we'll ever know who green-lighted McIlroy's second shot into the 18th green but what I do know is that the whole thing was unfortunate.
It was a bad ending to an astonishingly great week -- one I hope folks don't remember it for 20 years from now because it deserves so much more than that.
For more golf news, rumors and analysis, follow @EyeOnGolf and @KylePorterCBS on Twitter or Google+ and like us on Facebook.
Find out when and how to watch the 2017 Tour Championship live this week

What if the No. 1 guy in the FedEx Cup standings is watching a putt for $10 million on Sun...

Belichick is talking about driving and putting again
The final 30 are set for East Lake on Thursday as the hunt for $10 million begins

There is $34 million at stake, who will take it home?

SportsLine simulated the 2017 Tour Championship 10,000 times and came up with some surprising...