The Masters: Get to know the 2013 amateurs at Augusta
Six amateurs will tee it up at the Masters next week, including the youngest golfer to ever compete in the major.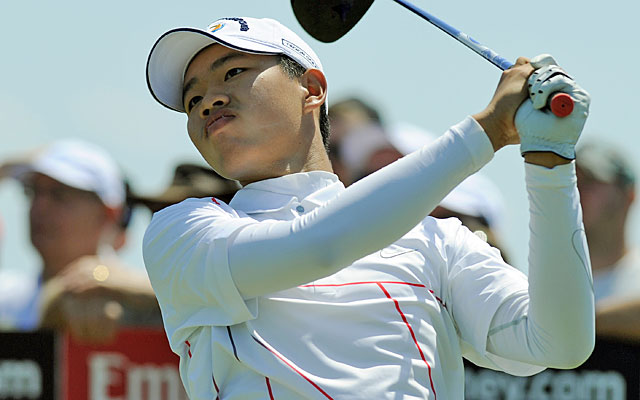 More Golf: Masters | Leaderboard | Rankings | Expert Picks | Equipment | FedEx Cup
The New York Times quoted Masters creator Bobby Jones as saying the following:
There are times when I feel that I know less about what I'm doing on a golf course than anyone else in the world.
There is no doubt the six amateurs at the Masters will feel like this at some point next week. Their first Masters (for five of them anyway), the biggest stage in golf, the most prestigious place for amateur golfers to spend a week of their lives -- it will all become too much at some point next Thursday or Friday. But for now, they're all even-par, same as Tiger Woods and Phil Mickelson, just like Rory McIlroy and Justin Rose.
Right now, anything is possible.
Let's get to know all six of these guys and how they qualified for the tournament.
Guan Tianlang
Where he plays: Guangzhou, China
How he qualified: Asian-Pacific Amateur champion - Guan, 14, won the Asia-Pacific Anateur last fall with a 66-64-72-71 showing (the Asia-Pacific Amateur is stroke play) to win by one over Cheng-Tsung Pan, the No. 12 amateur in the world.
After his victory, Guan told Golfweek:
I'm so excited. I'm really happy to become the youngest player at the Masters and looking forward to going there. I don't know what's going to happen there, but I know I just want to do well.
What his chances are: Guan headlines this year's group of amateurs, mostly because of his ridiculous age (14) and prodigious talent. He is the second 14-year-old to compete in a major in the last year (Andy Zhang shot 79-78 at last year's U.S. Open), but the first at the Masters.
The problem for Guan is going to be length off the tee. He weighs 125 lbs. so reaching the par-5s in two is out of the question and reaching some of the par-4s in two is going to be difficult.
Arnold Palmer even questioned his decision to play in the tournament to Golf Channel:
I'm not so sure that it isn't more of a detriment than it is a plus for him.
Guan countered in that same article that he's just excited to be there:
To be the youngest player in the history of the Masters, I feel very honored, excited and looking forward to it. I know I will enjoy it very much.
Guan played in two events in 2012 that offered Official World Golf Ranking points and missed the cut in both.
He'll miss the cut again at Augusta but for him to just be in the field is beyond impressive.
Steven Fox
Where he plays: University of Tennessee-Chattanooga
How he qualified: U.S. Amateur champion - Fox won the U.S. Amateur Championship in his first try. He was the No. 63 seed in the tournament and only made it in because he was able to win one of 14 spots (between 17 golfers) in the stroke play portion of the event.
Fox was actually down two with two holes to play and won three straight holes to punch his ticket to Augusta.
What his chances are: Fox has played several practice rounds at Augusta already and also teed it up on the PGA Tour this year at Torrey Pines and Bay Hill. He shot 70-78 at the former and 78-81 at the latter, missing the cut at both.
I don't think he'll make the cut at Augusta, but nobody thought he'd win the U.S. Amateur last summer either. Here's one of his coaches at Tennessee-Chattanooga on Fox's ability to surprise:
He's someone who does the most unbelievable things at the right moment.
For his sake I hope he has some of those things in store at the Masters.
Where he plays: Pittsburgh, Pennsylvania
How he qualified: U.S. Mid-Amateur champion - Smith is the veteran of this group, both in age and experience. This will be Smith's fourth time to play in the Masters -- he finished 6 over in 2004, 5 over in 2010, and 8 over in 2011, missing the cut all three times. 
Smith qualified by winning the U.S. Mid-Amateur last September for the fourth time. According to Golfweek, Smith is an incredible 32-4 in his career at the Mid-Amateur. 
What his chances are: Smith has recorded rounds of 78-72-74-75-75-77 at Augusta, never even really sniffing the cut. But your fourth Masters is your fourth Masters. He's probably gotten to know the course as well as some of the pros playing the event.
I say he makes his first cut this year.
Where he plays: California (Berkley)
How he qualified: U.S. Amaterur runner-up - His second place finish to Steven Fox last year at the U.S. Amateur would sting a lot more if runners-up at the U.S. Amateur weren't invited to the Masters as well. Weaver missed a five-foot par putt on the 36th hole of his match play event with Fox to win. He would go on to lose the next hole but still qualify for the Masters.
After the event he told Golfweek:
I still can't believe what happened.
What his chances are: He's currently ranked the No. 21 golfer in college golf by Golfweek so his performance last summer at the U.S. Amateur wasn't a fluke. 
Weaver hasn't won yet this year on the college season but he has five top-10 finishes. I'll take him to be the low amateur at the Masters this year.
Where he plays: Northern Ireland
How he qualified: British Amateur champion - Dunbar was one-down after 34 holes of the British Amateur Championship last year but he went par-par on the last two for the win and Masters invite.
He almost gave up his opportunity to play in the Masters by going to European Tour Q School last year and trying to qualify for his European Tour card but missed the mark and decided to remain an amateur for the time being.
What his chances are: Dunbar played in the British Open last year and shot a respectable 75-71 but an Ulsterman who grew up on links golf playing at Royal Lytham & St. Annes is a lot different than that golfer playing four rounds at Augusta in mid-April.
Dunbar's story is a good one, and his finish at the British Amateur last year was clutch, but the biggest thing he'll have going for him is his announcement after Augusta that he will turn pro because he won't be making the cut.
T.J. Vogel
Where he plays: University of Florida
How he qualified: U.S. Amateur Public Links champion - The only golfer who qualified comfortably, Vogel won his final match in the Public Links in 2012 by a 12-and-10 margin.
After his win, he told the AP:
It's too surreal now to think I'll be playing in the Masters. Once I get that invitation, it will hit me.
What his chances are: Vogel is definitely the brashest of the six amateurs which, in a four-day event at Augusta Nataional, might come in handy.
According to this Golfweek article Vogel wears NBA socks to play in and listens to Beyonce and Chris Brown on the driving range so I'm all in on him even though the good folks at Augusta might frown upon a few of those actions.
I say he makes the cut regardless.
We'll bring you more coverage of all six of these golfers thoughout the week at the Masters, including who has a chance to make the cut and check in as the low amateur for the event.
For more golf news, rumors and analysis, follow @EyeOnGolf and @KylePorterCBS on Twitter and like us on Facebook.
The Solheim Cup starts this week, and Team USA is ready

Every is riding a three-tournament streak of made cuts

The former FedEx Cup champion won't be participating this season
Find out when and how to watch the 2017 Wyndham Championship live this week

The year's opening tournament has a new Wisconsin-based backer

Rory McIlroy, Rickie Fowler and Henrik Stenson tee it up from the wrong side