The most overrated and underrated golfers for 2013
Our expectations are too high (or low) for these guys.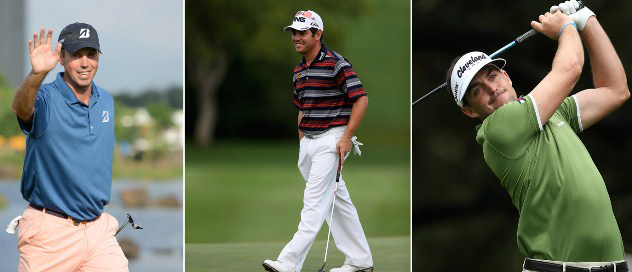 Kuchar, Oosthuizen and Bradley all make the underrated/overrated list. (GettyImages)
The PGA Tour recently released its top-100 golfers for 2013 list. As with any list, there are some overrated guys and underrated guys who stuck out to me.
Remember this isn't a list of golfers whom I think are good or bad, only a list of whom I think is rated incorrectly. 
On to the list.
Overrated
Keegan Bradley (3): Yes, his Ryder Cup performance was a thing of dreams. Yes, he has a major and finished No. 10 on the money list last year. But did you know Bradley only finished in the top 10 in 20 percent of his tournaments? That's a lesser percentage than Dicky Pride, Jimmy Walker and Bud Cauley. His ceiling is higher than any American under 30, but No. 3 for right now is too high.
Phil Mickelson (6): You know how we all thought it was crazy in 1986 when Jack Nicklaus won the Masters at age 46? Well, Mickelson will be 43 this year and he's coming off a season in which he only had two top-10 finishes after May. He's still as wily as ever, I'm just not sure he's top-10 material. 
(Please just copy/paste this in your email to me after Mickelson wins the Masters -- no need to write your own scathing words; this paragraph will be enough).
Rickie Fowler (13): Again, I'm not saying he's not great, but No. 13 seems a little high for someone who only had five top 10s in 2012 and didn't finish inside the top 20 at any tournament after his T5 at the Crowne Plaza Invitational. I'm going to need to see some more consistency from our monochromatic Oklahoma State friend before I put him in my top 15.
Ernie Els (20): Other than the gift that Adam Scott delivered him at Royal Lytham and St. Annes last summer, the Big Easy wasn't great. His top-10 percentage (top 10s divided by tournaments played) was only 23 percent -- lower than golfers like Kevin Stadler, Jonas Blixt and Jonathan Byrd. There's not a person alive who doesn't want to see Els win another major in 2013, but I think a top-20 nod is a little much.
Nick Watney (23): It's not that I don't like Watney (I do), but he was extremely inconsistent last year (19 percent in top 10s). His putting lagged (no pun intended) as he was 104th in putting strokes gained, and he really struggled putting from longer distances (182nd from 20-25 feet). I think Watney is a top-40 or top-50 player, but I can't put him in the top 25.
Others: 
Steve Stricker (21)
Vijay Singh (32)
Geoff Ogilvy (36)
Underrated
Matt Kuchar (14): Nine top 10s last year (including two at majors) and a win at the Players Championship are good enough for me to put him in the top 10. In fact, I wouldn't be at all surprised if he ticked off major No. 1 in 2013.
Louis Oosthuizen (22): I'm not sure how you leave the No. 6 player in the world outside of your top 20. His $182K earned per tournament ranked 11th on tour ahead of Adam Scott and the Johnson brothers (Zach and Dustin). Bonus points here because his mustache is also criminally underrated.
Bo Van Pelt (28): Few golfers on tour were more steady than Van Pelt was in 2012. He tied Rory McIlroy for most top 10s (10) -- or 42 percent (!!!) of the tournaments that he played in. He also posted a pair of top 20s in the majors. Van Pelt only has one tour win in his career, but he's playing the best golf of his career. He's one of the most underrated (and overlooked) golfers in the world.
Carl Pettersson (34): Nobody flew under the radar more in 2012 than Pettersson. Four top-four finishes including a win at the RBC Heritage and T3 at the PGA Championship bumped him up to No. 32 in the world golf rankings. I see him only going up from there.
Others:
Jonas Blixt (40)
Kevin Na (56)
Jonathan Byrd (64)
For more golf news, rumors and analysis, follow @EyeOnGolf and @KylePorterCBS on Twitter and like us on Facebook.
Brandon Hagy and Hudson Swafford are among the leaders at Glen Abbey

Jody Demling had the Kentucky Derby winner early, was high on Preakness long shot, and nailed...

Noted health enthusiast Gary Player was not pleased about the diets at Royal Birkdale
How has the year's fourth major course changed since 2016?

The No. 7 golfer in the world is learning what it takes to be a world-class pro

Find out when and how to watch the 2017 RBC Canadian Open live this week