The time for Tiger Woods to break his winless major streak is now
Tiger Woods has had an incredible year to this point, but it's time for him to put it together at a major.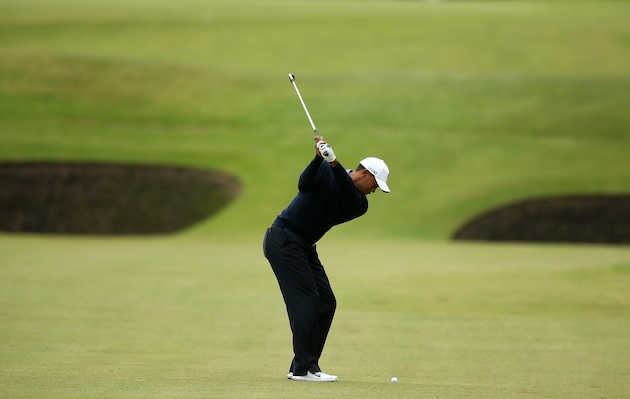 A Tiger Woods win this week would be his 15th major and put him just three behind Jack Nicklaus. (Getty Images)
On Thursday at Royal Lytham & St. Annes, Tiger Woods will tee off in the first round of the British Open, hitting an opening tee shot in a major championship like he's done countless times in his career. He's heading into the Open the favorite, another comfortable, and normal, spot for Woods. 
And like so many times, he's been the story heading into the third major of the year. Talking heads have debated on what to expect from Tiger, and how he might fare at Lytham, a course that calls for straight tee balls and position plays. For years to come, just like years past, Tiger will be the lone story because in this sports world, Tiger is the golf story and everything else falls behind. History is made each and every time he heads to a first tee, adding PGA Tour wins to an already incredible career and hoping to catch a record that most thought was uncatchable.
But unlike majors in the past few years, Tiger is the favorite because he should be the favorite. It isn't because of his popular name or the fact that offshore betting sites know that he's where the money comes in, but simply because Woods is the best golfer in the world right now and if there was ever a time for him to break this winless streak in majors, it's this Sunday. 
Tiger is going into this Open Championship as ready as he's ever going to be. Before the PGA Tour season started, I made a remark that a good season for Tiger would be two wins, and if he did that, he'd have to be proud of himself. Gone are the days of the Woods dominance that would ring out over eight or ten tournaments and three majors in a season. But we all know what this guy's career is measured on. Win the Memorial, good on him, but it isn't the Masters or the PGA Championship. Tiger must pick up those wins right now if he ever is, because his golf game is in a place right now where it can beat up on the field. 
So what Tiger are we going to get? The guy that played four great rounds in Ohio, and then beat up on the field at the AT&T, or the guy that struggled mightily with his golf swing at Augusta National and went rogue on us after two solid days at Olympic Club? That's the difference in Tiger now and Tiger then. Back in those days, Tiger would spend months on auto drive, going half a dozen tournaments without really missing a golf shot. He'd make every clutch putt, beat up on whoever was put him front of him and stuff trophies away at his house like a hot roller would with chips at a craps table. 
Comparing Tiger to the way he used to play is silly, but that is the one thing that is missing now to Tiger's game. The consistency is just gone. 
Winning majors isn't something that's as easy as Tiger once made it look. There are plenty of really great golfers that could never snag a major, and there are a ton of guys out there right now that continue to be successful in every phase but winning the big four. Lee Westwood and Luke Donald come to mind, but guys like Steve Stricker and Sergio Garcia are veterans that have never been able to close out these types of golf tournaments. Tiger still knows how to win a major, but knowing how and executing are completely different things. To say the pressure builds during these four weeks of the year for Woods would be an understatement, and the sports world just continues to edge closer to the end of their collective seat when another Sunday passes without a Woods major win. 
So another week is upcoming for Tiger to shut everybody up for good. Besides the 150 or so pro golfers Tiger has to beat, he faces the media, golf fans, the weather, the soggy greens and most importantly, the demons that have recently planted themselves in that once impenetrable mind of his. 
Sounds easy enough, doesn't it? 
Find out when and how to watch the 2018 Honda Classic live this week

The 17th hole was devastating on Friday at PGA National and tons of golfers paid the price

Tiger looks lithe and powerful again, and he has the score at the Honda Classic to prove i...
Some of the best players in the world were having trouble scoring on Thursday at PGA Natio...

A cool move from the 14-time major winner to this 10th grader from Stoneman Douglas

There is certainly some progress from Big Cat this week at the Honda Classic