The U.S. Open showed us the 'Is Tiger Woods back' conversations should go away
Tiger Woods will always be the best golfer of this generation, but it looks like he will never be "back" like we want him to be.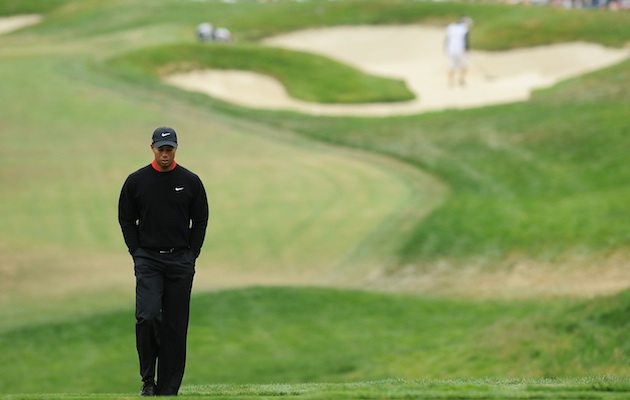 Tiger Woods' inconsistent play at the U.S. Open is just a microcosm of his 2012 season. (Getty Images)
This past weekend, before all the silliness happened at Olympic Club to produce a victor that nobody saw coming after 36 holes, something happened. Golf writers, critics, fans and non-fans had to contemplate something; Tiger Woods is neither "back" and may never be "back" in the terms we thought might be transpiring after the first two rounds of the U.S. Open.
I won't fault people for the excitement that came when Tiger went out and shot opening rounds of 69-70 to land himself in the final group at the U.S. Open, a position that he was eight for nine in closing out previously when holding a share of the 36 hole lead. It's in us to get excited about true champions, and as sports fans we get excited about the possibility of something miraculous happening (this being, that after everything that Tiger Woods has gone through, he is still able to comeback and pull off the improbable). 
You know the story that transpired over the next two rounds. Tiger was sloppy in his Saturday round and not much better on Sunday, shooting rounds of 75-73 to finish T-21, his second worst ever at the U.S. Open as a professional.
And people wanted to know what went wrong. What happened? How in the world could Tiger, coming off a win, play this badly when he was in contention at a major championship, the place he used to be as comfortable as Johnny Depp in a fedora. 
The reason, although tough to grasp, is simple; Tiger is never going to be back. Ever. 
On Saturday, Curtis Strange said something during his radio broadcast that really touched on everything that is wrong with Tiger fans. He said he'd never consider Tiger back until he won three or four times in a row. While I totally agree with Curtis, I think this is a false promise. Tiger winning three or four times in a row? The guy can't finish in the top-10 in four straight events anymore.
And this is no knock on Tiger Woods. He's still the greatest golfer ever, in my opinion. It's a knock to the false hope he instilled in my generation. 
I didn't grow up watching Ben Hogan, Arnold Palmer or Jack Nicklaus. I never got to see the older guys do what they did to the fields, but I know that none of them did what Tiger did during his stretch from 1999-2006 (46 PGA Tour wins including 11 majors). He tricked us into thinking that the game of golf was this easy. Be a great player, have a level of dominance over your competition and poof, winning comes in droves. 
That simply isn't the case. We look at golf now and there isn't anyone dominant. Rory McIlroy will be that person for a few months and then Luke Donald and then Bubba Watson and then Martin Kaymer. It's a revolving door of players that are all talented, but equally talented. Tiger is just one of those guys now. 
And if you still can't buy the fact that Tiger just isn't going to be "back" in those terms, look at his finishes this year. After each win, Tiger has failed to finish inside the top-20. He has only broke 70 once in eight major championship rounds this season, and he has accumulated his worst finish at the Masters as a professional and second worst finish as a pro at the U.S. Open in 2012. 
But this isn't a knock on Tiger, it's simply golf. Bobby Jones once said, of Jack Nicklaus, "he played a game with which I am not familiar," and I'm sure if you asked any PGA Tour guy during Tiger's heyday if this said the same about Woods, they'd nod their heads incisively. 
But golf just wasn't that easy. The bad breaks started to come for Tiger Woods. The putts didn't catch lips and go in like they used to. The balls have stopped spitting back in fairways. Golf has started to show Tiger that the "better to be lucky than good" mentality might actually make sense. 
So the "is Tiger back or not" conversation needs to die. Tiger has won two PGA Tour events this season, at two big events, and that is as many as anyone else on the PGA Tour. Strangely, Tiger has overachieved for the first half of the PGA Tour season, considering how he's played the last couple of years. Tiger is as back as he's going to be, playing like the Old Tiger some days, and the New Tiger others. 
People will never stop dissecting the guy's life or golf or approach to the game for as long as he lives, but I think it's time to lay this argument to rest. Tiger is still a top-10 golfer in 2012, but sadly, that's about it. 
Everything about the event so far this week has been a home run

Rahm lost his lead, but a 67 keeps him in the chase at CareerBuilder

Koepka is looking to recover in less than three months to play at Augusta National
Thomas Pieters and his Ryder Cup partner could go at it for a title this weekend

Phil Mickelson returns and the Web.com Tour is cleaning up

Lefty returns at the CareerBuilder Challenge this week