This could be the most perfect John Daly photo of all time
John Daly hit a golf shot out of the trees in Hong Kong and, well, you're going to want to see this.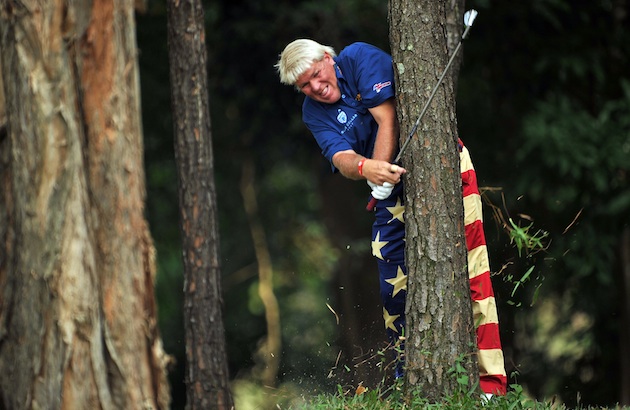 Never change, John Daly. Never change. (Getty Images)
Oh, John Daly. We go months and months without talking to each other and my mind starts to forget about us. The history we've had together. Crooked Stick. St. Andrews. Kid Rock. It's all been great. 
But sometimes you just pop back in my life and it's brilliant. Like this picture, taken by the amazing Stuart Franklin of Getty Images. 
Daly was in the trees during his first round of the Hong Kong Open and he tried to go all Tiger Woods at Augusta on it, with just a little less grace. 
His face. Those pants. That shot. His mullet. It's all everything we wanted it to be.
Daly shot 2-over 72 to start his week and sits T-75, and while he might not make the cut this week, that image will last forever. 
The pairings are reset once again as Justin Thomas co-leads after 36 holes

Justin Thomas is tied with Webb Simpson and Paul Casey going into Saturday

We have an update from Big Cat, and it's an encouraging one
Find out when and how to watch the 2017 Tour Championship live this week

We get a second round reset as Kyle Stanley leads the charge at East Lake

Kyle Stanley is your leader after a busy first round at East Lake