This Johnny Miller coaching Tiger story is the most Johnny Miller thing ever
Johnny Miller told Golf Magazine that he was once asked to coach Tiger Woods, and why are we not surprised.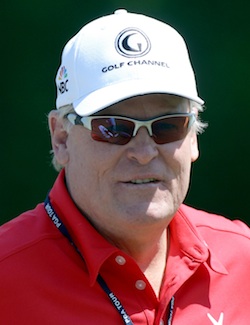 Johnny Miller, best short-iron player to ever touch a club. (Getty Images)
I must begin this by simply saying, I like Johnny Miller. Always have. I like his style and the way he played the game and how he approaches commentating and how he, unlike almost all broadcasters, isn't scared to say it exactly how it is.
Now, at times it can be a bit much. I've been at the forefront of the Miller-63 jokes during majors (see how I approached even that with a Johnny Miller-esque condescension?), and think at times he takes it a step too far, but I like the guy as both a person and a professional.
That said, how Miller is this story about Tiger Woods once asking him to help him with his golf game?
Miller told Golf Magazine that Tiger's people once approached him about helping Woods with his golf game, and oh, be ready, because we're about to get in the center of Miller Land, population only one.
"Not many people know this, but when Tiger had been on Tour for two or three years, his people called and asked if I would give him lessons on short irons," Miller said. "Jack Nicklaus told him I was the best short-iron player ever — a pretty great compliment."
Ha! Okay, allow me to set up how Johnny Miller that last quote was.
He started off complimenting himself by saying that Tiger's people once asked him to coach him. Nobody is here to doubt how great a golfer Johnny Miller once was (the dude once shot a 63 at the U.S. Open in the final round! Did you know that?!), but it takes you to another level as a golfer to have Tiger Woods approach you and ask for help.
After that, Miller then complimented himself for no apparent reason, throwing in the fact that Jack Nicklaus called him the greatest short-iron player ever, which has nothing to do with the fact that Tiger asked him to coach.
It's great in so many ways. 
The magazine articles goes on to say that Miller didn't take the job because he wanted to spend more time with his kids and grandkids (a noble, and true, statement since the guy is a serious family man), but he did say he'd be down to help Tiger these days.
"He's the guy I'd like to help most," Miller continued to Golf Magazine.
Oh Johnny, never change. Never, ever change. 
This season will fascinate as old stars converge with up-and-coming superstars

With a single golf lesson up for auction, Tiger Woods changed some lives forever in Texas this...

The Days have had a rough 2017 from beginning to end
Why in the world would a former FedEx Cup winner hop on 24 hours worth of flights this wee...

Following the debacle at the ANA Inspiration earlier in 2017, Thompson has some thoughts

Fowler is as good as it gets on the PGA Tour