Tiger Woods and Rory McIlroy keep the show going Friday at Crooked Stick
On Friday, Tiger Woods got the best of Rory McIlroy by a shot, and it was as entertaining as the first round at the BMW Championship.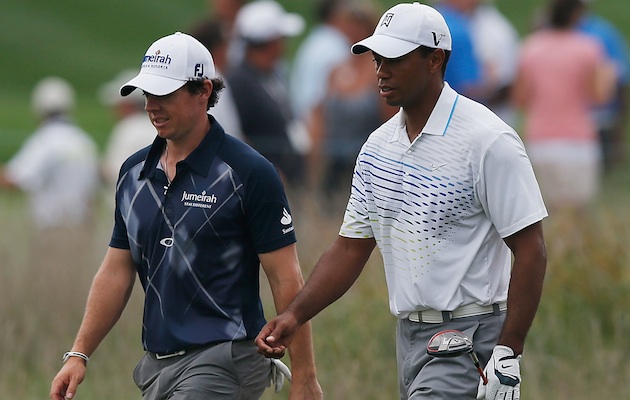 Tiger Woods and Rory McIlroy are both tied at 12-under through two rounds at Crooked Stick. (Getty Images)
Maybe reality set in a little during the second round of the BMW Championship for Tiger Woods and Rory McIlroy. Thursday seemed like a walk in the park between the two, with both playing nearly flawless golf as the relationship between the two biggest names in the game continues to grow (Tiger and Rory did a joint interview on Thursday, something that you rarely see from anyone on tour, much less a guy as guarded as Woods).
Friday was a little different. Sure, the two were still friendly, but as the rounds go by, the mood changes and you go from friends to competitors. And also, their games weren't as sharp. Rory struggled to find fairways throughout most of his round, and was spotty around the greens, while Tiger just tried to keep his arms around a round that never seemed to want to dip below 70.
But both did. Rory drained a lengthy par putt on the 17th hole and followed that up with a birdie on the 18th to post a 4-under 68, and Tiger did him one better, knocking in his own birdie on the last to fire 67 (a sneaky 67) and join Rory at 12-under after two days. 
BMW Championship
More Golf coverage
There are plenty of story lines that don't involve Tiger and Rory, like Vjiay Singh leading at the age of 49, or Ryan Moore continuing to move himself up the FedEx Cup list. But, frankly, the first two days belonged to this superstar tag-team. 
The 18th hole was a bit of a show of what exactly Rory seems to bring out in Tiger. In the past, Woods would birdie the last most of the time, especially if he needed it. Somehow he'd find a way to hack a wedge close or fire a 6-iron from a fairway bunker over water to a guarded pin, and he'd make the birdie, smile, and then shake hands.
Lately it hasn't been that easy. For every holed bunker shot Tiger pulls off during the British Open, he's had disappointing finishes, especially when things were going along smoothly. Making closing birdies hasn't been as regular as it used to be for Tiger, but on Friday he saw McIlroy stick a wedge close, and followed it up with one better. Then, after Rory's putt disappeared, Tiger calmly rolled his in as well to join the youngster as the favorites for this weekend.
The show must go on. If the weather cooperates, there is a very good chance we could see Tiger and Rory paired together on Sunday. It'll be exactly what the golf world wants, and exactly what it needs. 
Other sports take precedent this time of year with the majors done and the Ryder Cup weeks away, but to watch these two, playing together, trading blows and birdies, is a treat that goes beyond what anyone would have imagined. 
Together, it seems they're not only battling for this title, but for a little bit of history. One kid wanting to be the best in the world, and building on his legacy day by day. The other, a man some might think is past his prime, shaking his finger at the youngster, explaining that this thing isn't his just yet. 
The Tiger and Rory Show. Sure, we'll take more of it. 
Rahm and Landry battled one another through four extra holes on Sunday

The Englishman lapped a monster field on Sunday with a closing 65 that was better than it...

It's the second time Phil Mickelson missed the cut in his first tournament of a season
Everything about the event so far this week has been a home run

Rahm lost his lead, but a 67 keeps him in the chase at CareerBuilder

Koepka is looking to recover in less than three months to play at Augusta National