Tiger Woods and Rory McIlroy - three storylines as they debut
Tee times and storylines as Tiger Woods and Rory McIlory tee it up in Abu Dhabi tonight.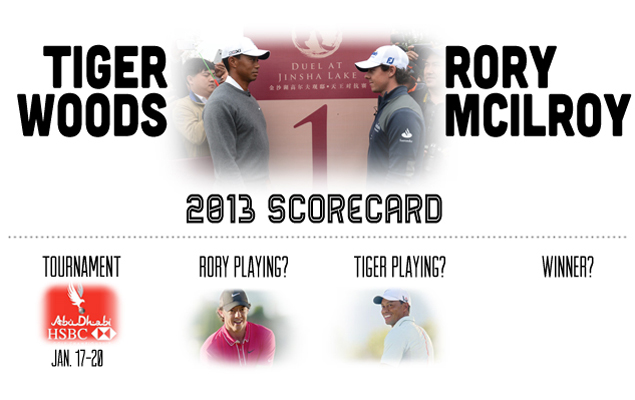 Tiger Woods

and

Rory McIlroy

are ready for 2013. (CBSSports.com Original)
This is the universe of Tiger Woods and Rory McIlroy. We're just existing in it.
For all the handshakes, camel photos, and overblown press conferences, the world No. 1 and No. 2 have yet to hit an official shot as Nike's most famous duo at the HSBC Championship in Abu Dhabi.
That changes Wednesday night. Here are their tee times (not to be confused with their tea time) for the first two rounds (all times ET).
Wednesday - 10:40 p.m. (live) -- GOLF Channel
Friday - 3:05 a.m. (live) -- GOLF Channel
That's right, Woods and McIlroy are so good they can spread a two-day event into three days (that, or the time change in Abu Dhabi means their Thursday is actually our Wednesday).
Replays will be shown on the Golf Channel on Thursday and Friday morning at 10:30 a.m. ET.
The apparant intimacy of Woods' and McIlroy's relationship has been pretty jarring to me over the past few weeks. For somebody who is famously closed off and emotionally opaque, Woods has engaged publicly in a friendship with Rory in a pretty stunning manner.
Here are three storylines I'm excited about regarding their golf, their newfound friendship, and that big company in Oregon paying them both lots of cash:
1. Leader of the pack. For the first time anyone can remember, on Tuesday Tiger Woods got asked more questions about someone in a tournament not named Tiger Woods than he did about himself. The guard is changing, that's for sure, but has it fully shifted? I think so, but it's definitely up for debate. Nike has cast two superstars as its leading actors; who will steal the show?
2. Friends close, enemies closer? I'm on Season 4 of Breaking Bad, and it's something Walter White has reiterated to Jesse Pinkman over and over again. Tiger knows Rory is one of the few things that stands in the way of him and Jack Nicklaus' record of 19 majors. Has he drawn him close off the course because he wants a buddy or because he needed a way in, a means to lay the young Irishman to waste over the next five years?
3. For better or worse. Greatness needs a rival. Michael Jordan knew this. Kevin Durant and LeBron James know this. So do Roger Federer and Rafael Nadal. But it's not often that two rivals are so buddy-buddy away from their sport. Will their mutual admiration result in multiple wins for each golfer, or will they become so obsessed with their two-man tango that somebody else (Louie Oosthuizen? Keegan Bradley?) swoops in to steal the "best in the world" title belt?
2013 is going to give us so many answers. 
For more golf news, rumors and analysis, follow @EyeOnGolf and @KylePorterCBS on Twitter and like us on Facebook.
The Englishman lapped a monster field on Sunday with a closing 65 that was better than it...

It's the second time Phil Mickelson missed the cut in his first tournament of a season

Everything about the event so far this week has been a home run
Rahm lost his lead, but a 67 keeps him in the chase at CareerBuilder

Koepka is looking to recover in less than three months to play at Augusta National

Thomas Pieters and his Ryder Cup partner could go at it for a title this weekend