Tiger Woods apologized to Ryder Cup rookies after Sunday loss at Medinah
Golf Channel revealed an interesting point about Tiger Woods on Monday's Morning Drive show.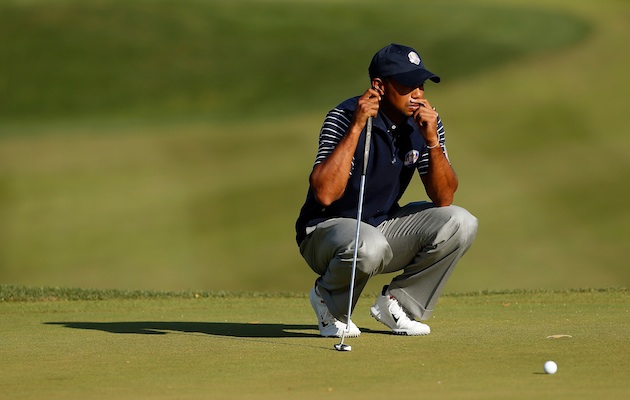 Tiger Woods took it upon himself to apologize for the Ryder Cup loss. (Getty Images)
When something as epic as last month's Ryder Cup collapse happens, news doesn't stop trickling in, and that was the case on Monday over at Golf Channel's Morning Drive.
Tim Rosaforte, Golf Channel contributor and knower of all things internal to the golf world, spoke at length about what happened after the Americans blew a 10-6 lead on Sunday at the Ryder Cup. He mentioned something that might surprise just about everyone in the golf world: Tiger Woods actually apologized to the American rookies for the loss.
According to this report, Woods pulled Brandt Snedeker, Webb Simpson, Jason Dufner and Keegan Bradley aside and apologized for his performance at Medinah, where Woods finished with an 0-3-1 record on the week.
Appearing on "Morning Drive," Rosaforte revealed, "Brandt shared with me (at his fundraiser in Memphis) that Tiger got all the rookies in a room, closed the door and personally apologized to everyone for not doing more, for not getting the points he needed to get to get a U.S. victory. For people who don't think Woods really cares, whenever that turn or that pivot occurred in his career, it has fully turned."
It is pretty interesting to hear this stuff about a guy who normally seems disconnected from the golf world. Yes, Woods didn't earn a full point at the Ryder Cup. And yes, he is one of the many who could be blamed for the loss. But it wasn't like it was all on Woods' shoulders and he failed. Woods and playing partner Steve Stricker could never get it going together at Medinah. And the only reason that Woods didn't win a full point in his singles match against Francesco Molinari is because the Cup had already been decided and his missed three-footer on the 18th hole seemed more like a lack of concentration than a lack of trying.
Woods catches a lot of criticism for some of the stuff that he has done, but I think it's worth pointing out that these last few months have shown a different side of him than we've seen previously in his career. Woods has buddied up with Rory McIlroy, dropped a lot of the antics that we were used to seeing on the course and, while he is never going to win the media over in a press conference, it's nice that he would take it upon himself to tell the youngsters on the American team that he was just as responsible for the loss to the Europeans as anyone.
Good on Tiger, and good on Snedeker for letting us know that Woods cares.
The Solheim Cup is over, and now it's time to reflect on what happened

The Clemson sophomore has some big shoes to fill in the upcoming few years

SportsLine simulated the 2017 Northern Trust 10,000 times and came up with some surprising...
It's all over at Riviera and the Clemson Tiger sophomore is your champ

The Iceman lines it up with a 64 on Sunday at Sedgefield Country Club

Lexi Thompson got a clutch half point, and the U.S. was off to the races