Tiger Woods breaks his slump at Bay Hill
Tiger Woods won Sunday at the Arnold Palmer Invitational.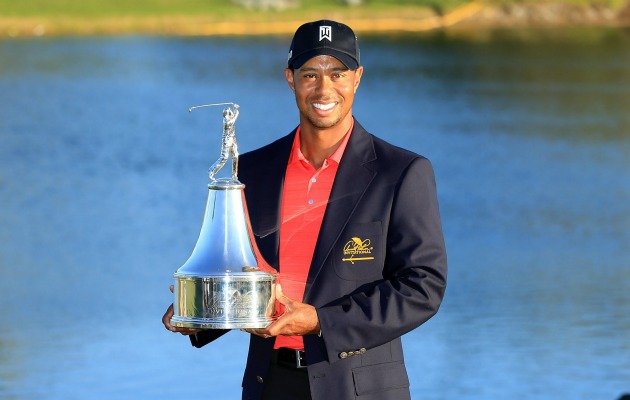 Tiger Woods lifts his first trophy since 2009. (Getty Images)
The wait is finally over. No more hoping and wishing and "I'm close" quotes from Tiger Woods anymore. 
On Sunday at the same course Tiger laminated his last comeback, Tiger Woods finally won a PGA Tour event in pretty much the same fashion we were used to in the past. 
Woods was spectacular for the entire week, playing a Bay Hill course that seemed to give just about everyone else fits in annoyingly consistent fashion. Like the mechanic we once knew, Tiger extended his lead over Graeme McDowell on Sunday and went to work, hitting stinger tee balls in the fairway, finding the middle of greens, basically forcing anybody behind him to make a charge on a golf course without a lot of great birdie holes. 
You'll hear a ton of stats about Tiger's win over the next 24 hours. You'll hear about how many years, months, days it was since he last lifted a full-fielded trophy, but it seemed this win was about way more than simply numbers.
For Tiger, winning on Sunday at Bay Hill was as much a confidence boost as anything. Woods has been in positions as of late where he could have won. He's been down the stretch in events that he could have closed and not be able to. He had a shot at Pebble Beach earlier this year but couldn't find his game on Sunday. 
This week seemed different. The week started with questions about his health and the state of he as a person more than about Tiger as a golfer, but he quickly quieted those with a second round 65. Then came Saturday, when Tiger started to build a lead only to lose a golf shot on the 15th hole that was anything but Tiger-like. 
That was the moment when you knew it could either go one way or the other. Tiger could let that shot bother him, struggle to finish his round and possibly let another tournament get away from him, or he could push that swing away, grind out the rest of his third round and focus on Sunday. 
He went with the latter approach, landing in the final group with a one-shot lead and letting everyone else fall apart around him. That was what Tiger used to be the best at, and on Sunday, everything from his past seemed to resurface. He made the lengthy par putts when he had to. He never let a bad swing or bad decision bother him past that moment. He was swinging with the type of confidence that we used to see weekly. 
But maybe the most telling moment didn't come when Tiger needed something to happen. The most telling moment after Tiger had hit his last full shot of the day. Walking up the 18th green, with a comfortable five shot lead and the tournament all but wrapped up, Tiger broke character. He smiled and high-fived before the final putt dropped. He shook hands with his competitor before the round ended. He actually looked like he was enjoying himself out there.
And then came the smile. Tiger was stalking his birdie putt on the final hole that didn't meant anything, and he cracked. A smile crept across his face and he looked around, soaking in the moment. 
This is a new Tiger Woods; same ability to close, newfound appreciate for winning. Augusta National, I hope you're ready for him. 

For more golf news and updates, follow Shane Bacon and Eye on Golf on Twitter.  
This season will fascinate as old stars converge with up-and-coming superstars

With a single golf lesson up for auction, Tiger Woods changed some lives forever in Texas this...

The Days have had a rough 2017 from beginning to end
Why in the world would a former FedEx Cup winner hop on 24 hours worth of flights this wee...

Following the debacle at the ANA Inspiration earlier in 2017, Thompson has some thoughts

Fowler is as good as it gets on the PGA Tour