Tiger Woods falls to Justin Rose, Lee Westwood goes crazy low in Turkey
The finals are set for the Turkey golf event, with Tiger Woods and Rory McIlroy nowhere to be found.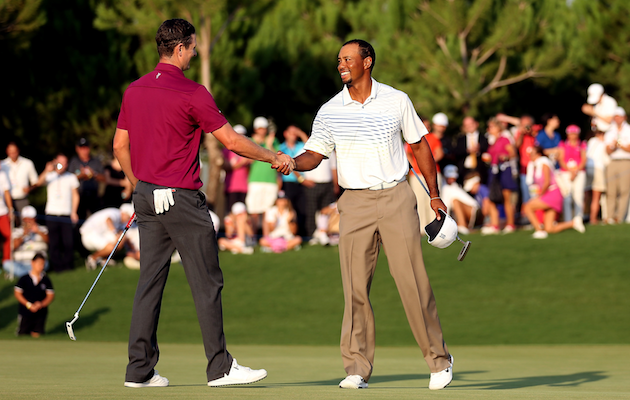 Justin Rose got Tiger Woods by a shot and will face red-hot Lee Westwood in the Turkey finals. (Getty Images)
The rise and fall of match play is who you get in the final match. The Accenture Match Play event could be the tournament of the year if, say, Tiger Woods and Phil Mickelson met each other on the final day, playing 36 holes to choose a winner. Ratings plunge when Henrik Stenson and Geoff Ogilvy are the last men standing at an event with this scoring system.
So the eight-man Turkish World Golf Finals did a good job of making sure every player was a big name in the world of golf, but even they wanted the finale to feature Tiger Woods and Rory McIlroy for rating benefits.
McIlroy was out on Thursday with a loss to Woods before the semifinals, but Tiger looked to be in a good form after his 64 to beat the world No. 1 and was up against Justin Rose to make the final. Rose had other ideas and bested Tiger by a shot, posting a 2-under 69 to Tiger's 70. But the real story coming out of Turkey on Thursday was the incredibly round that Lee Westwood shot.
Westwood beat Webb Simpson in the morning matches with a tidy 64, but it was his 61 to take out Charl Schwartzel that was the talk of Turkey. The crazy part? Westwood shot 10-under with a double-bogey, taking place on his fourth hole before making eight birdies and an eagle to close out his round. 
So the finals will be Westwood versus Rose, a fine matchup that any tournament would love to have. But it sure isn't Tiger and McIlroy. Those two will have to enjoy their six-figure pay day for just showing up and smacking the golf ball around. I'm sure they're very disappointed. 
Rahm and Landry battled one another through four extra holes on Sunday

The Englishman lapped a monster field on Sunday with a closing 65 that was better than it...

It's the second time Phil Mickelson missed the cut in his first tournament of a season
Everything about the event so far this week has been a home run

Rahm lost his lead, but a 67 keeps him in the chase at CareerBuilder

Koepka is looking to recover in less than three months to play at Augusta National