Tiger Woods fires opening round 64 to take Friday lead at Deutsche Bank Championship
Tiger Woods reeled off six straight birdies in the middle of his round to take the Friday lead.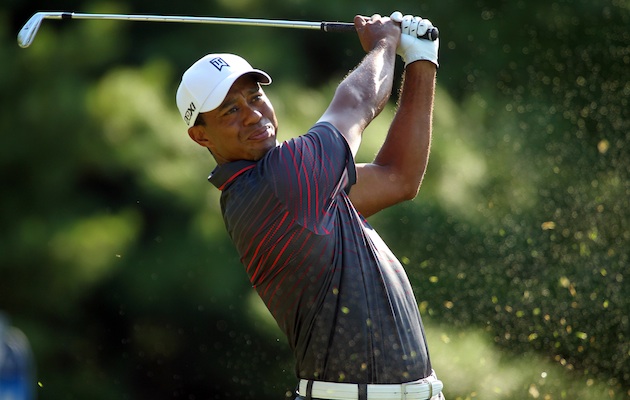 Tiger Woods opening round 64 is his best start of the 2012 season. (AP)
On Friday at the Deutsche Bank Championship, we saw an 18-hole stretch of golf by Tiger Woods that could define his current career.
Woods got off to a fairly slow start, caught fire during the middle of his round and just when you thought something special was about to happen, Woods came back to reality. 
No matter, Tiger still fired a crowd-pleasing 7-under 64 to take the lead at the second event of the FedEx Cup playoffs, and is in a great position to not only snag his fourth PGA Tour title of 2012, but take a serious lead in the standings heading into the final two weeks. 
How did Tiger do it? 
It was the incredible run through the middle of Tiger's round that had the golf world buzzing and throwing around that elusive "59" number. Tiger started off fine, with birdies on Nos. 11 and 13, his second and fourth holes of the day, and after a birdie on the 18th, he turned in 32, tying himself for the lead at the time.
But it was there that Tiger caught fire. He knocked in a birdie on the first, followed it up with an expected birdie on the par-5 second hole, and added three more in a row, making it six straight for Tiger before missing a birdie putt from 15 feet on the par-4 sixth. 
How great was Tiger's run of six birdies? Well, for starters, it was one away from his own record of consecutive birdies, when he had seven at the 2005 Masters. It also came with Tiger playing the 18th, a hole that has been changed and has a few professionals befuddled at how to play it. Also, it puts Tiger in an incredible position to be leading a PGA Tour tournament after the first round for the first time since the 2010 Barclays.
But Tiger still didn't close out his round. Tiger's par on No. 6 wasn't something to be disappointed with, but him failing to birdie the par-5 seventh and then closing his round with a bogey on the par-4 9th is probably something that will leave a bad taste in his mouth walking off the golf course. 
But if nothing else, it's expected we talk about reality. This is still the first round of a four day golf event, and while it isn't going to end on a weekend, Tiger still has to shake the final 36-hole jitters. In the old days, the trophy engraver would have been given the full Labor Day holiday after a round like this for Tiger, but we've seen what can happen after a few good rounds, and we can't exactly wrap this one up for Woods just yet. 
Still, it's really fun as a golf fan to see Tiger do stuff like this on Friday at the Deutsche Bank and Sunday at the Honda Classic. Woods has gotten really good at getting the most out of his round when he isn't striking it as solid as he can or making the putts he knows he can make so when all the parts of his game click, and he's bombing the ball off the tee, finding fairways and converting birdies, you just sit back and enjoy the show. 
This season will fascinate as old stars converge with up-and-coming superstars

With a single golf lesson up for auction, Tiger Woods changed some lives forever in Texas this...

The Days have had a rough 2017 from beginning to end
Why in the world would a former FedEx Cup winner hop on 24 hours worth of flights this wee...

Following the debacle at the ANA Inspiration earlier in 2017, Thompson has some thoughts

Fowler is as good as it gets on the PGA Tour