Tiger Woods is loving golf again, all thanks to Rory McIlroy
The passion is back in Tiger Woods' golf game, and it seems all to be centered around Rory McIlroy.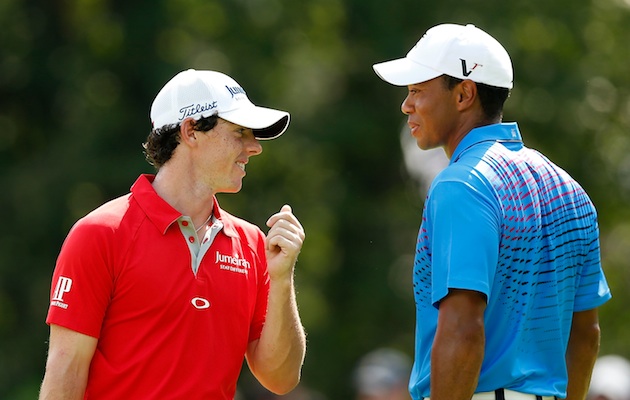 Rory McIlroy and Tiger Woods' bromance seems to really benefit the 14-time major winner. (Getty Images)
At one point during the final round of the PGA Championship, something dawned on me while watching Tiger Woods. The guy didn't really look like he was enjoying playing golf anymore.
It wasn't something he did or a certain shot he hit, it was a year of major disappointments that looked to pile up on the guy who has spent his entire career chasing major championship wins and at that moment, on Sunday at Kiawah Island, realizing that he'd have to wait another season to add to the only resume that matters. 
But these FedEx Cup playoffs have changed Woods' approach to the game, and the one person who deserves the credit for that is Rory McIlroy. 
Yes, the heir apparent has not only put himself atop the world of golf, but he's somehow made the guy that used to dominate the game interested again.
On Thursday at the BMW Championship, Tiger and Rory were paired together again and unlike most every other round that Tiger plays, he was smiling, chatting, and competing. Woods can say all he wants in those interviews that he still goes to tournaments to win and that the past two years he would never enter a tournament he didn't think he could run away with, but his golf game wasn't there. He was going through the motions at times when his swing was all over the place and he couldn't hole a putt, and deep down didn't look like he wanted to be out there. But now, during these playoffs, Tiger seems to have found the fire again, and the person we should be thanking is the kid walking the fairways alongside him.
BMW Championship
More Golf coverage
Tiger's 65 on Thursday at Crooked Stick might have been bested by Rory's 64, but the score didn't matter, it was the answering of golf shots by Woods all the way down to his last hole, when Tiger looked like he'd make par on one of the easiest holes on the golf course before bumping a 9-iron into the center of the cup for a chip-in birdie and a sweet round of 7 under.
You can see it in Tiger that he isn't ready to give up the title of most-talented in the game, even if everyone else in golf has handed it to Rory. Tiger smiles and talks to Rory. He does interviews with the guy when the rounds wrap. He congratulates him and compliments him and says he's the face of a new generation.
But behind all that friendship stuff is a veteran with 14 major championships and the passion to, bluntly, kick Rory's ass. He wants to be paired with McIlroy. He gets up for those rounds much like players used to get up for rounds with Tiger. While there is a field full of guys that could win this week at the BMW Championship, Tiger knows that the one guy that he must beat is the youngster with the curly hair and aggressive golf swing, and on Thursday you could see just how much he likes the competition.
There has always been a Fountain of Youth in sports. The moment when Michael Jordan says he wants to guard Penny Hardaway or when Roger Federer still isn't ready to let Novak Djokovic dust him on Center Court at Wimbledon. Sometimes these incredible veterans can dig deep into a tank they'd closed off long ago to find out that the most simple formula in sports is this one: You are doing this because at one time you absolutely loved this game, and woke up each morning without anything else on your mind.
Tiger might have stopped enjoying the game of golf for a spell, but that's out the window right now as the PGA Tour season winds down. Rory is pushing Woods, and it's special to watch. 
Lucky for us, we get at least another day of the Tiger-Rory show. 
The next season of golf has a real chance to be one of the best any of us has ever seen

This season will fascinate as old stars converge with up-and-coming superstars

With a single golf lesson up for auction, Tiger Woods changed some lives forever in Texas this...
The Days have had a rough 2017 from beginning to end

Why in the world would a former FedEx Cup winner hop on 24 hours worth of flights this wee...

Following the debacle at the ANA Inspiration earlier in 2017, Thompson has some thoughts