Tiger Woods lands even more criticism after opening round 74 at Players Championship
Nick Faldo thinks that Tiger Woods' struggles on the golf course are caused by his loss of self-belief.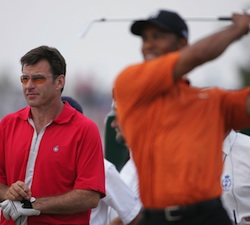 Nick Faldo is standing by his thoughts on the problems with Tiger Woods' golf game. (Getty Images)
Criticisms of Tiger Woods are nothing new. The moment he went from superstar golfer that hardly ever lost to everyday PGA Tour player, critics piled on and have never stopped, and a lot of those questioning comments have come from the golf broadcasting booth.
Introduce Nick Faldo, the six-time major winner turned broadcaster who recently said that Tiger had lost his self-belief in his own golf game. Woods went on the defensive earlier this week in his Players Championship press conference, simply saying about the critics in general, "they must have some kind of superpower I don't know about."
Faldo didn't back down after Tiger opened with a 2-over 74 at the Players Championship, leaving him nine shots back of the leaders, saying he really sees something bad trending in Tiger's approach to tournament golf. 
This is what Faldo said on Thursday at the Players Championship:
"I hated it when analysts and commentators were saying, `He's thinking this. He's thinking that. But this analyst here, I've walked the walk. I've been there and the bit I'm trying to describe is self-belief. I've had self-belief when I was playing my best and I also lost self-belief, and that's obviously when you get to the end of your career. I can generally recognize when a player is on the range, striping it, which Tiger's been doing basically all season. But for a player, if you cannot walk from the practice ground to the first tee ... for me, he doesn't have the self-belief he really needs."
What Faldo is saying is 100 percent accurate. All year, guys have talked about how good Tiger hit it in this practice round or how he's "right there," but when he gets out on the golf course, you really don't know where it's going. 
That even holds true during his win at Bay Hill, when Tiger hit one shot 40 yards out of bounds that could have been extremely costly and another shot that bounded into an out of bounds fence but stayed in play, saving Tiger some important shots that he might not have had coming down the stretch if there had been no fence there.
My only complaint about all this Tiger criticism is we all need to do a better job realizing that Tiger isn't the same guy he used to be. He is simply just another professional golfer with as great a chance at missing the cut as he has at winning that week. If things are clicking, he might go out and dominate and if things are loose he might be leaving early on Friday. 
It's as simple as that with Tiger Woods, 2012.  
h/t USA Today's Game On!
Thomas birdied the second playoff hole to beat Marc Leishman

The reigning PGA Tour Player of the Year righted the ship after a shaky second round

The left-hander from Texas had a tap-in eagle in Korea on Friday
List flipped the script from Thursday's action to grab the lead through two rounds

The No. 4 player in the world dumps his putter in favor of a wedge because of a mark on the...

Masters 2018 and several other props for Big Cat have been released