Tiger Woods on media scrutiny: Criticism, hyperbole sell
Tiger Woods was asked about media scrutiny on Monday at his Wells Fargo press conference, and gave a very honest answer about the current media world.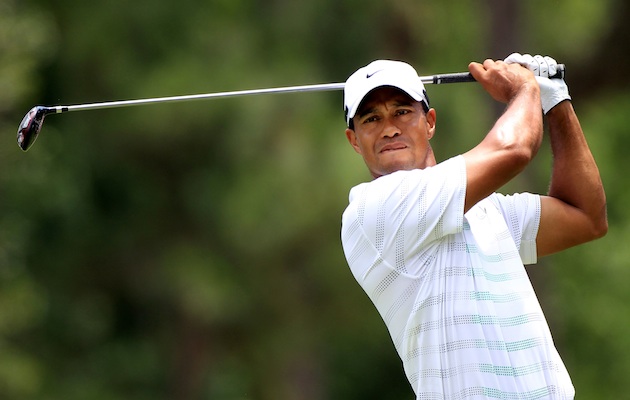 Tiger Woods was asked about why the media focuses on him so much, and gave a candid answer. (Getty Images)
There are plenty of times during a Tiger Woods press conference where words are spoken but nothing is really said. He's turned into the king of that. He sits in front of a microphone talking about his game or his swing or his chances that week, and they're literally the exact same quotes that week as they were the week before and will be the week after.
And Tiger is scrutinized internally and externally. The guy is the most recognizable sports figure in the world, and his struggles on the golf course and off it have brought everyone south of the Pope in to figure out what went wrong, and we all report what they say because he's Tiger Woods and the guy moves the needle. 
Face it, you are reading this story because it's about Tiger Woods. I'm writing it because it's about Tiger Woods. He's the biggest figure in golf by such a large margin it's insane. 
So on Monday, when Tiger held a press conference at Congressional Country Club for his AT&T National event, the last question that was asked was about all the criticizing. Tiger's answer was one of the most thought out, and truthful, things he's uttered in years. 
Well, I think that's the nature of the new media business.  The reason why I say that is obviously with the new 24 hour news cycle and all of the different medias that that are now, there's so many different ways for people to get information. 

And I think that we have talked about it a number of times on TOUR with myself with other players is that there is so many different ways that we can - so many different ways in which news is reported.  You've got to be able to stand out somehow to get eyes going to your site or to your media, and I think that's one of the reasons why there's the criticism that there is.

I was looking at it the other day, if LeBron didn't have a good game, then the Heat are done and he should retire.  I'm like, geez, guys, he just won MVP.  But I think that's just the nature of the volatility of the new media in which we are involved in now.
Tiger's points are absolutely on point. The guy gets more media attention because he's a popular guy in a popular time where everyone wants to talk about him. The "fall from grace" types of stories are the ones that seem to really grab a headline (look at all the Anthony Kim stories right now), and Tiger's last three years have been as rocky as any golfer in the history of the game if we don't count John Daly.
All media outlets are at fault a lot of the times for overblowing a situation because it's CURRENT NEWS. Tiger won two months ago at the Arnold Palmer Invitational, dominating the golf course and the field, but if you read any story on the guy right now you'd think he hadn't broke 80 since Y2K. His play the last two months have warranted the criticism, but guys like Phil Mickelson, Rory McIlroy and Lee Westwood haven't won in that same time frame but it doesn't seem as necessary to pounce on those guys. 
Tiger understands the media better than most think (the guy has turned all his breaking news into his own profit, announcing most things on his own website or Twitter account), and he sees a lot of what is written about him, so you have to believe he has thought of this before. 
Woods might be struggling with his golf game right now, but we media type tend to squeeze as much out of that as we can, because Tiger + bad day = eyeballs. 
The next season of golf has a real chance to be one of the best any of us has ever seen

This season will fascinate as old stars converge with up-and-coming superstars

With a single golf lesson up for auction, Tiger Woods changed some lives forever in Texas this...
The Days have had a rough 2017 from beginning to end

Why in the world would a former FedEx Cup winner hop on 24 hours worth of flights this wee...

Following the debacle at the ANA Inspiration earlier in 2017, Thompson has some thoughts