Tiger Woods' opening round 72 at the Masters was anything but pretty
Tiger Woods had a chance to post a solid opening round, but the driver let him down at the end of his round.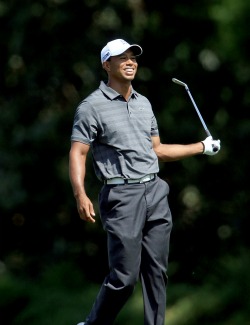 Tiger Woods reacts after a loose swing on Thursday at Augusta National. (Getty Images)
AUGUSTA, Ga. -- It used to always be a formality when Tiger Woods got a round going that he'd close it. He has done it a number of times and even when he's at Augusta National, feeling his way around his Thursday round the way he always does, it seemed red figures was all but inevitable. 
After Tiger rolled in his birdie putt on the 10th hole to go to 2-under, and made solid pars on No. 11 and 12, it seemed the green light was ignited and this could really be a special opening round. 
But Tiger couldn't find the green on the 13th, a hole he has played 41 under par over his career, and had to settle for a disappointing par. A bad tee shot similar to the snap hooks he hit on his opening two holes on the 15th left him in another tight spot, and Tiger was once again forced to settle for par on the second par-5 on the back, a hole he's played 43 under par over his career. Two good chances, two missed opportunities. 
The rest was as ugly as the start of his round. A missed birdie on the 16th after a great tee shot, then a sloppy bogey on 17 before a snap hook on the last that looked very similar to the one he hit to open his round. Tiger was forced to take a drop, hit a great recovery shot just to give him a shot at bogey, and roll in a five-footer for a five. 
Two final holes, two final bogeys. 
Woods told ESPN after that "I hit some of the worst golf shots I've ever hit today," but remarked, "I just hung in there, grinded my way around the course," and "got a lot out of that round." 
It was an unusually honest moment for Tiger when Tom Rinaldi pulled him aside. For all the mentions of "being close" and the "process," Tiger admitted that some of his bad habits from yesteryear crept in his golf swing, and he plans on working on them this evening before his afternoon round on Friday.
The even par 72 won't kill Tiger's chances. If the leader is four or five under when the day ends, Tiger will be in a fine position if things change. 
The simple question is, will the snap hook ever go away? 

For Masters updates from the course, follow Shane Bacon and Eye on Golf on Twitter.

Royal Birkdale has something new for its historic display case

This brand new event will look stunning on television with Jeju Island as a backdrop

Matt Parziale will play in some of the biggest golf events of 2018 ... wait, who?
In a big-purse, star-studded field, who will prevail at the first Korean event ever?

As France prepares for the 2018 Ryder Cup, Jim Furyk and Thomas Bjorn show off their accur...

To get things done at Augusta National, Ridley said you can't care who gets the credit