Tiger Woods' opening round at AT&T National neither good nor bad
Tiger Woods' start to his own tournament wasn't great by any means, but it didn't put him out of contention either.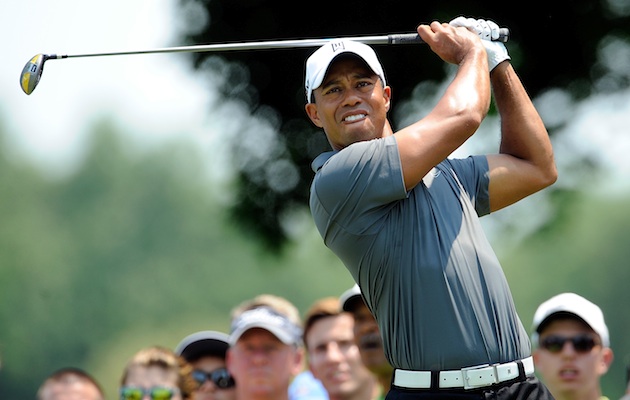 Tiger Woods is only five shots back of the lead despite a rather lackluster opening round. (Getty Images)
Most times, you can take an angle on a Tiger Woods round. He hit the ball well but didn't make any putts. He stripped it all day and got the most out of his rounds. He flat out played beautifully.
But on Thursday at Congressional, at the the tournament Tiger hosts each year, there really wasn't a lot to be said for Tiger's 1-over 72. 
We have said all week: The AT&T National is playing more like the U.S. Open than the U.S. Open did a year ago at Congressional, with fast fairways and tough greens with birdies more of a gift than a necessity.
The leader, Bo Van Pelt, sits at just 4-under, and despite a ho-hum round by Tiger, he's only five back after the first day. 
And it isn't just Tiger. Forty-six golfers are within five shots of the lead after the opening round, meaning that unlike the U.S. Open a year ago at Congo, nobody is running away with this one.
What did Tiger do on Thursday? Nothing super special or super disappointing. He had three bogeys and two birdies, struggling out of the sand because, as Tiger mentioned after his round, his wedges aren't built for Congressional-style sand (whatever that means). 
What can you take from Tiger's round? Well, he's still struggling a bit with his distance control and his wedges, something that really plagued him over the weekend at Olympic Club. He had some birdie putts he left short on Thursday at Congressional, but he also made some strong par putts to keep his round respectable. 
The good news: Tiger knows the course is going to play tough, and 1-over right now is absolutely fine. The golf course isn't going to get any easier, and if Tiger can dial in the wedges a bit, he definitely could post a 2-under round on Friday and be right in the hunt going into the weekend. 
Following the debacle at the ANA Inspiration earlier in 2017, Thompson has some thoughts

Fowler is as good as it gets on the PGA Tour

The USGA and R&A have decided that you will no longer be able to phone in penalties
The Spaniard captures another piece of hardware during an all-time season

The man who ended on his bag in 2017 will apparently begin on it next year

This snowboarding ball flip and drive is simply spectacular