Tiger Woods opens PGA Championship with solid 3-under 69
Nothing too fancy, nothing bad at all for Tiger Woods as he opened his PGA Championship bid with a 3-under 69.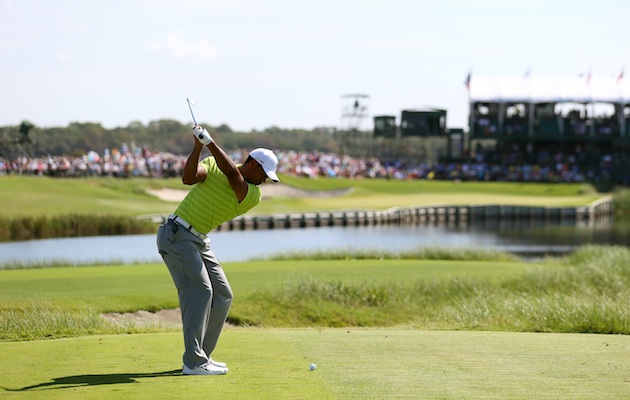 Tiger's opening round was helped by his great iron play. (Getty Images)
There are plenty of words to describe a Tiger Woods round these days. He has those incredibly hot rounds like Sunday at the Honda Classic. He has those head-scratching days like the third round of the U.S. Open. And then he has days like Thursday at the PGA Championship, when Woods went out and played, simply, solid. 
Nothing life-changing, nothing crippling, just a very put-together round of 3-under 69 for Woods, who seemed to be hitting his driver great and made more putts than we've seen him in over a month. 
Tiger's round isn't going to be leading, and on a windless Kiawah Island, might not even be in the top-10 come late afternoon, but it was exactly the type of round that Woods typically has when he goes on to have great weeks at major championships. So far this year, Tiger's three wins came after solid, but humble, opening rounds. At Bay Hill earlier this season, Tiger opened with a salty 69. His second win, at the Memorial, came after a Thursday 70, and his final win, at the AT&T, came after Tiger started with a ho-hum 72. 
For all the talk about how tough this week was going to be, the wind took a vacation on Thursday, and it gave the early morning tee time guys a chance to fire at pins at will. Some of the guys at the top of the leaderboard aren't exactly the names you'd expect to see (I mean, John Daly is in the hunt for goodness sakes!), but when the conditions soften, and the wind disappears, Kiawah is at the professional golfer's mercy.
Woods will probably be disappointed in the way he played the par-5s on Thursday (only one birdie on the four at Kiawah), but his iron play, especially on the par-3s, was laser sharp. 
His opening nine, starting on No. 10, was a mixed bag of loose bogeys and solid putts for birdie, and his back nine (the easier of the two sides) was probably a shot or two higher than it could have been considering where Woods was putting the golf ball.
His only real miss came on the par-4 4th, when Woods pulled his tee shot into a hazard, settling for a bogey that is one of those "it's going to happen" style bogeys that come and get you at this tough driving golf course.
All in all though, a solid day for Tiger. He needed only 22 putts, hit the ball solid, and is in a great position for his 15th major championship. Now the big question; will this same guy show up on Friday? 
More from the PGA Championship
The Open has one of the richest purses of all the major championships

SportsLine simulated the 2018 British Open weekend 10,000 times and came up with some surprising...

SportsLine's Mike McClure, a DFS pro with almost $2 million in winnings, gives optimal lineup...
Saturday will go a long way in determining a champion of the 147th Open

Tommy Fleetwood impressed on Friday and is now the betting favorite to take home the Claret...

Recapping the leaderboard for Round 2 of The Open Championship at Carnoustie