Tiger Woods set for a weekend run at British Open, but his game plan needs changing
Tiger Woods has been cautious for the first two rounds of the British Open, but that might not be enough considering the calm conditions expected at Royal Lytham & St. Annes.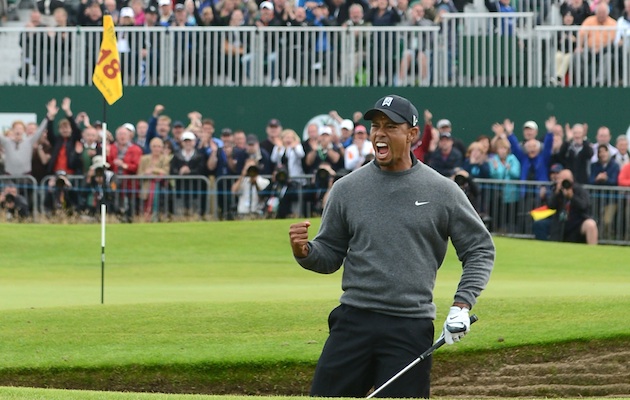 Tiger Woods' bunker shot on the 18th hole gave him a needed boost heading into the weekend. (Getty Images)
For Tiger Woods, there has always been a game plan. If it wasn't on the golf course, it was in his career or what tournaments to play or which events would best fit his game. He picked companies and clubs and sponsors all the same, knowing which ones would work the best to make him the greatest he could be.  
And that approach has always been the same on the golf course. Go to a course, pick out the perfect game plan for Tiger that week, and execute it no matter what everyone else is doing. At times, the plan has worked to perfection. Most notably, Tiger won the 2006 British Open by using irons off every tee but one, staying back of the bunkers that other players were battling with, and relying on his great play into the greens to carry him to his 11th major championship victory. Other times, his inability to be aggressive on courses that are calling for it have left Tiger looking up a leader board that he simply couldn't climb.
This week, it's been a little of both. Tiger's game plan has been very much like the one he took to Hoylake six years ago, when he won the Claret Jug by allowing everyone else to struggle with the dried out golf course while he sat back and showed everyone just how much better he was with his irons. Royal Lytham & St. Annes isn't anything like Hoylake was, but Tiger is still allowing himself to hit irons anytime he can, using a wood just three times in 36 holes. Woods isn't hitting drivers or fairway woods because he feels laying back gives him just as good a chance at birdie and keeps him away from trouble, and while he's sitting at 6-under, four shots off the lead, the golf course is allowing other players to be aggressive and fire at pins they wouldn't normally fire at. 
Lytham is defenseless this week, and guys know this. Brandt Snedeker is 10-under, Adam Scott is a shot back of him, and Tiger is lucky to be within earshot of both of those names, mostly because he hasn't been able to hit it that close for the first two rounds. The reason he is where he is despite consistenly having 200 or so yards in is he simply isn't making any mistakes. Through 36 holes, Woods has made just two bogeys, and the approach seems to be working well enough to get him in contention, but the question is if it's good enough to win.
More on British Open
Analysis

Related links
More golf coverage
Woods' name doesn't do what it used to do to major championship leader boards. Just because he's there doesn't mean the likes of Snedeker and Scott are going to fall back to him, and with a calm Saturday expected, other guys from down the leader board could make a run at the guys up top. That means Tiger is eventually going to have to start playing aggressive golf, and start hitting golf shots closer. If he can convince himself to do that, and alter his gameplan, there's a very good chance this will be the site of his second act in major championship history. 
On Friday, Tiger's two birdies on the back were both solid, but one was a lengthy birdie putt that he dropped and the other was an incredible bunker shot he holed, both things he can't rely on for the weekend. As much as Tiger is playing for position, he only holes 4 percent of putts outside of 25 feet, and he continues to give himself that distance.
But he is right there despite not knocking down flags. Tiger knows that these events are marathons, and he is in no hurry to do something to throw him off his plan. He's hit some loose golf shots when he had opportunities to score (the tee shot on No. 9 and the second shot into No. 18 come to mind on Friday), but he's been able to recover nicely all week and settle for pars when pars are a fine score. 
It just seems that Woods will need to start taking a few more chances over the next two days if he really wants to claim his 15th major championship. 
We saw Tiger do this exact same thing at Olympic Club a month ago, where he was playing defensively off the tee and allowing himself lengthy distances into greens. It worked for two days. It didn't over the weekend. 
Hopefully the game plan is better suited for Lytham, and if Woods is ready to win another major, the iron play must continue to improve and the plan tweaked ever so slightly. Tiger's great about making a plan. Let's see what happens if he decides to make a change. 
SportsLine's Mike McClure, a DFS pro with more than $1M in winnings, gives optimal lineup...

Paris is just nine months away, and it's not too early to start talking about

This week always feels like a big one on the European Tour, and this year is no different
It's going to be a telling year for where McIlroy's career is eventually placed among the...

Big Cat and the 44th POTUS got in a game over the weekend

A scary situation emerged out of Honolulu during the Sony Open