Tiger Woods speaks up on the putter anchoring issue, thinks ban should be universal
Tiger Woods was asked about the issue of putter anchoring, and said he thinks if banned, it should be for all of golf.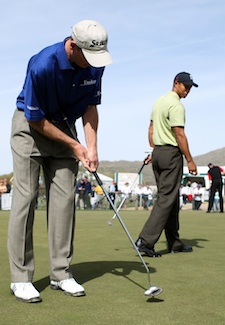 Tiger Woods gives a look as Jim Furyk practices with a belly putter. (Getty Images)
Few things in the rules of golf are as controversial as putter anchoring. The debate started to heat up last year when Keegan Bradley became the first golfer to win a major on the PGA Tour with a long or belly putter. After Bradley, who captured the 2011 PGA Championship, Webb Simpson won the U.S. Open with a belly putter and Ernie Els followed suit at the British.
Word is, a ruling is coming soon that will ban anchoring by 2016, and while it will be nice to put this argument to rest, the question remains if it will be outlawed across the board in golf or just for professionals.
Tiger Woods, speaking at his press conference Wednesday for his World Challenge event, was asked about that very thing, and said this on the idea of outlawing anchoring across the board or just for pros.
"Well, I believe it should be the same across the board.  It shouldn't be just -- I think it should be a global rules change is how I look at it."
Now I'm not sure I agree with that. Back in the Callaway ERC days, the driver was banned by the USGA but still sold to the public. Golf is a tough game as is, and it seems the powers above do everything they can to speed us up, make us play from shorter tees and have us "enjoy the game" in as short a time and at as much a cost as possible.
If a 60-year-old guy with a 14 handicap can't make a three-footer with a short putter to save his life, and the belly putter is banned, how is he going to enjoy playing? Isn't that just going to push more people away from the game?
Personally, I think anchoring putters should be banned for the pros. I think they give an unfair advantage to guys who, to be blunt, can't putt and are finding ways to get around it. But rules in golf should be different for amateurs mostly because golf is hard enough as it is. There is no way around a bad golf swing, and there shouldn't be a way around a bad putting stroke, but if it keeps people from enjoying golf, and filling up our courses, let 'em have at it. 
Big Cat gets paired with an American hero for the first few rounds at Torrey Pines

SportsLine's Mike McClure, a DFS pro with more than $1M in winnings, gives optimal lineup...

Faldo breaks down important notes for the return of Tiger at Torrey Pines this week
From The Golfboard to TopTracer, the stuff you may not know about about rocked Day 1 in Or...

Stick with CBS Sports throughout the week for the latest from the PGA Merchandise Show

There will be over 1,000 companies showing off their stuff in Orlando, Florida, this week