Tiger Woods spent Tuesday at Kiawah Island instead of Firestone
Tiger Woods opted for a practice round at the site of next week's PGA Championship on Tuesday instead of one at the site of this week's WGC-Bridgestone Invitational.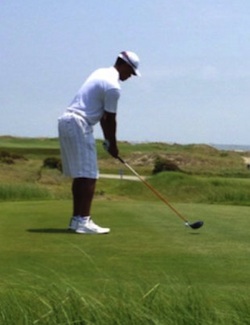 Tiger Woods played 18 holes at Kiawah Island on Tuesday, site of next week's PGA Championship. (@tshawntgolf)
On Tuesday, most of the field at this week's WGC-Bridgestone Invitational was enjoying a press conference or a practice round or a little of both at Firestone Country Club in Akron, Ohio. That is, most of the golfers that weren't Tiger Woods, Graeme McDowell and Adam Scott.
According to the PGA Championship Twitter feed, those three had another course in mind, with all enjoying a round at Kiawah Island's Ocean Course, site of next week's PGA Championship. A fan tweeted out the picture to the right of Tiger playing 18 holes in shorts, and maybe more surprising than that is the fact that Tiger was using his driver, something that seemed to be in hibernation at last month's British Open.
Tiger will be forced to pull out the big dog at Kiawah, as the course is set to play around 7,676 yards with wind howling in some direction at all times at the South Carolina gem. 
Taking some time to play Kiawah, or fitting in a prior practice round, isn't new ground for Tiger, or any big name professional, but it is interesting to see them skip a day at Firestone two days before the tournament kicks off. That said, you can't really fault the guy that has won at that course seven times for deciding to focus more pre-tournament attention on a golf course he might not know as well as a place that might just be Tiger's favorite venue in the world. 
The PGA Championship kicks off next week, so make sure to check out our PGA-focused page right here. 
The next season of golf has a real chance to be one of the best any of us has ever seen

This season will fascinate as old stars converge with up-and-coming superstars

With a single golf lesson up for auction, Tiger Woods changed some lives forever in Texas this...
The Days have had a rough 2017 from beginning to end

Why in the world would a former FedEx Cup winner hop on 24 hours worth of flights this wee...

Following the debacle at the ANA Inspiration earlier in 2017, Thompson has some thoughts