Tiger Woods talks game, Casey Martin and chatting this week with Phil Mickelson
Tiger Woods had his pre-tournament press conference on Thursday at Olympic Club and spoke about his current golf game, former teammate Casey Martin and chatting with Phil Mickelson.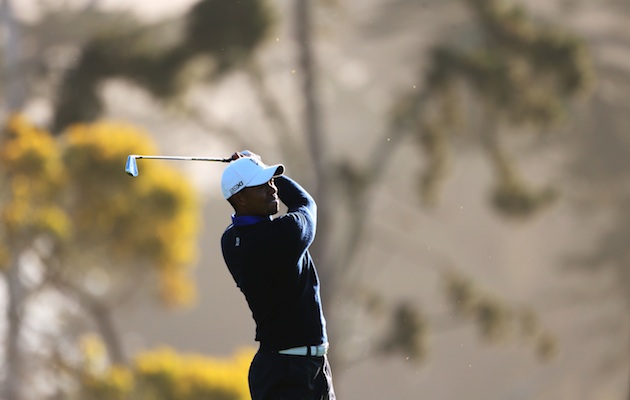 Tiger Woods plays a practice round on Tuesday at Olympic Club preparing for the 2012 U.S. Open. (Getty Images)
SAN FRANCISCO -- For the second time this season, Tiger Woods is heading into a major championship with as much hype as fans that will be following him when he tees off on Thursday with Phil Mickelson and Bubba Watson.
Tiger is coming off his second win of the season two weeks ago at the Memorial, and heading into Olympic Club he's the odds-on favorite to win his 15th career major championship. But more than that, it seemed at the Memorial that Tiger actually had command of his golf game. Unlike his play at Bay Hill, that was impressive but erratic at times (remember this shot?), Tiger took command of his golf ball, flighting it and hitting it exactly as it seemed he wanted. His win was his 73rd of his career, but more than that, it got him excited about Olympic Club. 
"Yeah, when I went into Augusta and I've told you guys this, I know, after, that I did not feel comfortable hitting the ball up.  And I got back into a lot of my old patterns.  Unfortunately, it didn't work out. 
But that's what made playing Muirfield so nice is that I had those shots and I was doing it the correct way.  And I had compression, hitting the ball high and hitting it long.  That was fun."
While Tiger is coming in with a ton of confidence, it might be playing partner Phil Mickelson that could use a jolt. Phil, who has finished runner-up more times at the U.S. Open than anyone in history, withdrew from the Memorial and is paired with Woods for the first two rounds, but don't expect a lot of chit-chat between the two. Tiger mentioned that this tournament is such a grind, chatting with your playing partner is nearly forgotten. 
"(We're) not going to talk about a lot," Tiger said of him and Mickelson. "This is the tournament that players talk the least to each other," mentioning the mental test taking over for brainless conversation.
Talking to Phil during his round might be out of the question, but getting a chance to catch up with an old pal had Tiger grinning when Casey Martin was brought up.
Woods and Martin were teammates at Stanford, and despite this great story about Casey winning some money off Tiger and keeping the check for all these years, Tiger seemed really excited to get a chance to play a practice round with Martin. 
"As far as playing with Casey, man, it's great to see him.  I haven't seen him in a while.  And he's now the coach of the Ducks.  And just so happy in life.  It's neat to see him - he played the Tour out here, tried that and he was happy doing it, but it's not like he is now.  It's good to see him in a really good place," Woods said. 
All in all, this is an important week for Woods. It's important because he knows he needs to make a dent in the Jack Nicklaus' record if he's ever going to do it. Despite what Tiger says about his chances as the years pile on, we all know that there aren't a ton of major winners late in their 40s. It's also important because Tiger can't keep coming into these big events as the favorite and falter. His golf game needs to show up at a major championship now more than ever, and the good news is he's happy that the course is playing like he wants it ("I just like a fast golf course"). 
Woods will get a chance to snag his first major since '08 when he tees off with Phil and Bubba on Thursday at 7:33 AM. 
Two of the top players in the world are headed down under this week

Please do not try this at home

The 2017 LPGA Tour season came full circle on Sunday
The Web.com Tour certainly is not shying away from handing out sponsor exemptions

This video of Ross Fisher hitting a perfect drive is fabulous

The rookie gets his first-ever win in just his 14th PGA Tour start