Tiger Woods thinks he can compete well into his 50s
Tiger Woods spoke to a radio station about his chances at winning tournaments the older he gets.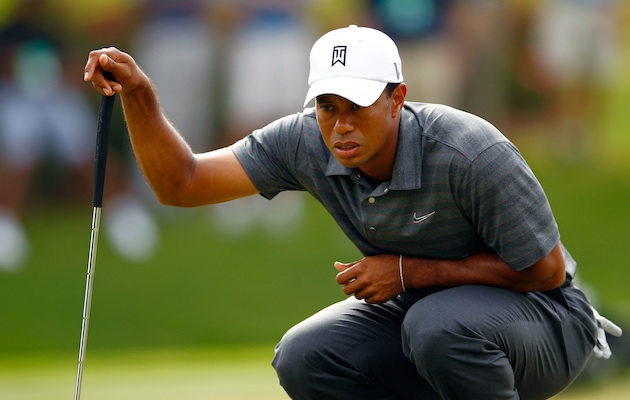 Tiger Woods thinks he could win major championships well into his 50s. (Getty Images)
The beauty of golf is how long one is able to play it. A grandfather can tee it up with his grandson and have a rowdy round of 18 holes between them unlike any other sport in the world, and the ability to play for a long time still creeps into the professional golf ranks. 
Tom Watson had a chance at the ripe age of 58 to win a British Open, falling in a playoff to Stewart Cink at Turnberry back in 2009, and while that might be considered a fluke by some, it still gives the old guys a puncher's chance to compete long into the twilight of their career. 
Enter Tiger Woods. Just 36, Tiger seems like the type of athlete that will stay driven well into his late 40s and 50s and could definitely be around to give the youngsters a run for their money if all the stars aligned. 
Tiger was asked by 106.7 The Fan about the chances of winning later in his career, and his answer was predictably optimistic. 
Q: Looking down the road, do you think you can keep winning tournaments into your 50s?

"Absolutely, 100 percent agree with that. It just has to be on the right golf course. It can't be, at that age — well, by the time I'm at that age, it'll be some golf courses over 8,000 yards. It's probably not going to be at one of those; it's probably going to be at a shorter golf course like you'd find at a British Open. Tom [Watson], at Turnberry, it was like the perfect Open. It was howling, it was a golf course he had won on and knew how to play and it was playing very quick. … You can certainly see a certain player playing into their 50s and being successful on a certain venue. You can't do it on all venues, there's no doubt. Some ballparks are just too big."
I don't think Tiger is too far off here. Just two months ago, Fred Couples was competing at the Masters at the age of 52, eventually finishing T-12 (it was his third top 15 finish at Augusta since turning 50). 
Distance is going to be a problem for some of the older fellas as the courses continue to stretch, but if you find yourself on a golf course that doesn't require you to hit the ball 400 yards off the tee, a player with the right game and focus could be in the mix well into his 50s. 
Jack Nicklaus famously won the Masters at the age of 46, but few remember that Jack finished T-6 at Augusta back in 1998 when he was celebrating his 58th birthday, making an early charge on Sunday before his round smoothed out. 
I will say this; Tiger should probably focus on winning majors at the age of 36 before he can think about winning them at the age of 50. It's not going to get any easier as the days pass him by, so he might want to get on upping his major legacy right now instead of later. 
The Solheim Cup starts this week, and Team USA is ready

Every is riding a three-tournament streak of made cuts

The former FedEx Cup champion won't be participating this season
Find out when and how to watch the 2017 Wyndham Championship live this week

The year's opening tournament has a new Wisconsin-based backer

Rory McIlroy, Rickie Fowler and Henrik Stenson tee it up from the wrong side