Tiger Woods' third round leaves him five back of the lead
Tiger Woods couldn't make up much ground on Saturday at the British Open, posting an even-par round to find himself five back of Adam Scott heading into Sunday.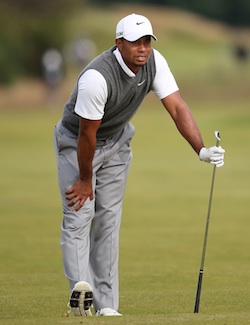 Tiger Woods couldn't replicate his opening two rounds of matching 67s, posting even-par 70 on Saturday. (Getty Images)
Tiger Woods needed to make a statement on Saturday at the British Open. He needed to come out and show everyone that he was going to take command of the major that really seemed like the one to end his slump in the big four. And on the first hole, Woods hit a soft cut to the right side of the green, a safe opening shot on the awkward par-3 starting hole. And then Tiger three-putted. And Tiger dropped another shot two holes later, and quickly found himself pulling an encore performance from the U.S. Open a month ago at Olympic Club. 
Woods bounced back after those bogeys, making three birdies in four holes to finish his front nine, but struggles on the back have Tiger five shots back of Adam Scott heading into the final round of the Open Championship. 
If Tiger is going to win his 15th major, he'll have to do something he's never done, mount a comeback and win one without the lead. In each of his 14 previous major wins, Tiger has held or shared the lead heading into Sunday, and while it seems crazy that someone like Woods has never won a major without the lead, it seems even more likely the way Tiger is approaching these rounds.
On Saturday, Tiger still wasn't overly aggressive, taking driver on the par-5 7th hole for the second time this week and making birdie for the second time when he decides to go with the big stick. But that was it. He stuck to his plan of plunking irons off tees, getting the ball in position and not taking a lot of chances, leaving himself that dreaded 20-25 feet all day. The difference in his round on Saturday compared to the first two rounds was Tiger threw in a couple of three-putts and couldn't find the magic of Friday afternoon. 
More on British Open
Related links
More golf coverage
Tiger mentioned that he had a couple of bad misreads, saying even in his book he charted the putts to go the other day and was fooled by the Lytham greens.
Still, it isn't like Tiger is 12 shots back heading into Sunday. Woods will be in the second-to-last group again, and he'll be chasing a guy in Adam Scott that has never won a major, and has never held the 54-hole lead in a major. Sure, Scott is up four on the field and five up on Tiger, but if the Australian shows some early signs of nerves, it'll be Tiger's job to get aggressive and make some birdies to put even more pressure on Scott, Graeme McDowell and playing partner Brandt Snedeker. 
The problem is, the rough start on Saturday isn't nearly as haunting as the fact that Woods really doesn't seem to be able to produce numbers on the back nine, making it two of three days he's play the inward nine without a single birdie (he had the exact same back-nine scorecard on Thursday as he did on Saturday, with eight pars and a bogey on No. 15). Somehow, Tiger is going to need to make some things happen in his round to catch the leaders, and that might mean taking some chances on the shorter par-4s on the back. He's comfortable with his plan, but as we said on Friday, he might need to make some subtle changes if he's really planning on making a run at this Claret Jug. 
People always use the line, "you can't win a major on Thursday, but you can sure lose it" when talking about guys that have steady, but not spectacular early rounds, but Tiger's plan for Sunday is almost the opposite of that approach. He needs to get in the mindset that this is the day he must go out and win the British Open, not just sit around and hope everyone else falls apart and he's the last one standing.
The weather forecast is calling for higher winds, which means there is a likelihood of guys coming back to the field, but the guys up top are too talented to completely fall apart, especially as a whole. 
Tiger hasn't had a better time to take control of an event and make a statement as he does on Sunday at Lytham. He needs to focus on hitting the ball closer to the hole, and taking some early chances so people know he isn't just settling for a few pars. Bad weather or no bad weather, 6-under par isn't winning the 2012 British Open, and hopefully Tiger accepts that before he gets to the first tee on Sunday afternoon. 
Tiger will need to Google the word "aggressive" before he goes to bed on Saturday night and repeat it to himself over and over again. Playing safe has got him in the second to last group after three rounds. One more day of safe golf will leave him with another "good finish," something Woods will never be happy with. 
Stick with CBS Sports throughout the week for the latest from the PGA Merchandise Show

There will be over 1,000 companies showing off their stuff in Orlando, Florida, this week

Big Cat is back, but he'll have loads of competition at Torrey Pines
Big Cat is officially active this week at Torrey Pines for another go at a full season

SportsLine simulated the 2018 Omega Dubai Desert Classic 10,000 times and has some surprising...

SportsLine simulated the 2018 Farmers Insurance Open 10,000 times with some surprising res...