Tiger Woods tied for the lead at U.S. Open because of patience and control
Tiger Woods is tied for the lead halfway through the U.S. Open because he has able to be patient and control his golf ball.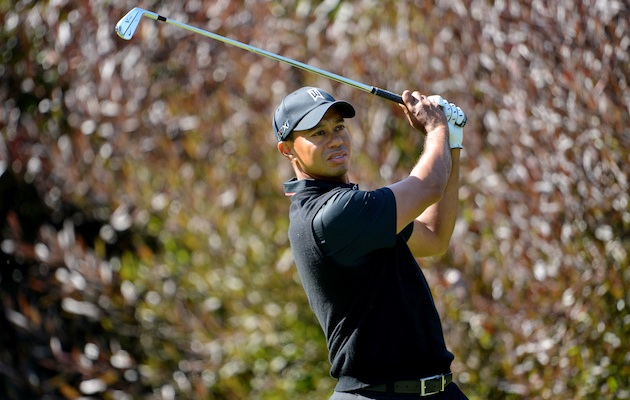 Tiger Woods' ability to hit fairways is one of the main reasons he's leading the U.S. Open. (Getty Images)
SAN FRANCISCO -- There was a point on Friday when Tiger Woods was searching for his second shot on the sixth hole that you thought he might lose his cool. He'd laid well back on the final leg of Olympic Club's Hell Half Dozen, and hit a 4-iron from 230 yards right at the pin, but it came up short, and landed in just about the worst lie you could have at a U.S. Open (and that's saying something).
Tiger took his time, stood in the bunker, choked up on his wedge and chipped it well over the green. His reaction screamed New Tiger. He yanked his club back like he was going to slam the lip of the bunker, but he reserved, got up and down for his bogey and went about his business. 
112th U.S. Open: Round 2
Related links
And it took a few holes before Tiger did what Tiger seems to be doing lately. 
Woods hit a solid tee shot on the par-3 8th, the moment he said things turned. And although he couldn't convert the birdie putt there, he did so with a lengthy putt on the 10th in a group that hasn't seen a lengthy putt disappear all week.
Tiger is currently Hoylaking the Olympic Club, doing the same game plan on Friday en route to a second round 70 as he did on Thursday when he shot 69. 
Not because of bunkers like that British Open he won, but because he is simply playing smarter than the rest of the field, hitting irons and fairway woods off tees, and picking his spots for roars. 
Woods seems to have realized that you can't makes birdies and pars from the combination of the thick Olympic rough and the slick, hard greens, and has decided he'd rather attack these things from well back because it at least gives him the option of how to hit the shots. 
The planning is all Tiger. He has done this a number of times in the past, hence the Hoylake reference to his British Open win when he only hit one driver all week, and when you think about it, it makes total sense.
On Thursday Tiger hit three drivers all day. On Friday, four. And who is atop the field in driving accuracy? Tiger Woods, at 75 percent. 
"He has great control of his ball striking, and he's able to hit a lot of the fairways.  He's got a very good low shot with his long irons, 3 wood, as well as his four, five, and six irons," Phil Mickelson, who played with Tiger the first two days, said on Friday. "There's a lot of four or five or six irons off these tees and he's shaping well, getting it in play and then you then he hit a lot of four, five or six irons into the greens and he's doing that extremely well too."
Woods' approach has him tied atop the leader board, a place he is eight for nine in completing when leading a major after 36 holes. 
The reason is simply, Tiger was patient. He knows this golf course is playing incredibly tough. He gets that birdies are at a premium. And he knows that over the last few holes, he didn't catch a single break on Friday but was still able to make the necessary pars to post a round that seemed as tough as the Olympic Club greens. 
"Well, that was not easy," Tiger said after his round on Friday. "That golf course was some kind of quick.  It got dried out.  The wind was swirling a little bit out there.  It was tough.  It was really, really tough.  Just had to stay as patient as possibly and I did a really good job of that today."
The day didn't come without some questionable decisions and some scary putting on the front nine. Woods has been steady from eight feet and in his last five rounds, but on the front nine he couldn't seem to get the speed right and missed a couple of short ones that he had been holing in rounds previous.
And then came the closing stretch, that at Olympic Club, is the only time of the round you get realistic chance at getting some shots back. 
On both Nos. 16 and 17, the only par-5s on the course, Tiger had extremely makable birdie putts but was confused on both. The latter coming after he hit one of the best golf shots of his day on the 17th only to have it bound over the green, down the shaved bank and into a tough spot to get it up and down. 
"I hit just another beautiful soft 4-iron up in the air on 17.  And I thought I threw it up high enough to land it soft enough and evidently it didn't," Woods said. "Then I'm down there in a spot where it's as tough to get it close, and I thought I did a pretty good job of that."
He did do a good job of it, as he did all day when the breaks weren't going his way. Tiger continued to speak of how tough this Olympic Club course is playing, but the key word all week is patience and he has shown nothing but it. 
Woods now heads into the final 36 holes the heavy favorite, but it is far from over. He has to overtake two former major championship winners in Jim Furyk and David Toms that can plod around this golf course with the best of them. 
Tiger spoke of the way Furyk, his playing partner on Saturday, approaches the game, and mentioned it is very much like him. 
"I've always admired how he maneuvered his way around the golf course," Tiger said. "That's one of the reasons why we were such great partners together in the Cups is that we think alike.  I just hit the ball further.  But we maneuver ourselves around the golf course the same way.  And I think that's one of the reasons why we gelled so well."
The two, along with Toms, will be heading out on Saturday doing what Olympic Club forces you to do; simplify golf. Fairways, greens, and if you can do both of those, you might be able to steal a putt or two. 
You'll need them, because it sure doesn't look like this golf course is getting any easier. 
The Ryder Cup is going to be insane after the 2018 season

Rahm and Landry battled one another through four extra holes on Sunday

The Englishman lapped a monster field on Sunday with a closing 65 that was better than it...
It's the second time Phil Mickelson missed the cut in his first tournament of a season

Everything about the event so far this week has been a home run

Rahm lost his lead, but a 67 keeps him in the chase at CareerBuilder