Tiger Woods vs. Rory McIlroy: Who had the better 2012?
Tiger and Rory were the two best golfers in the world in 2012, but who was better?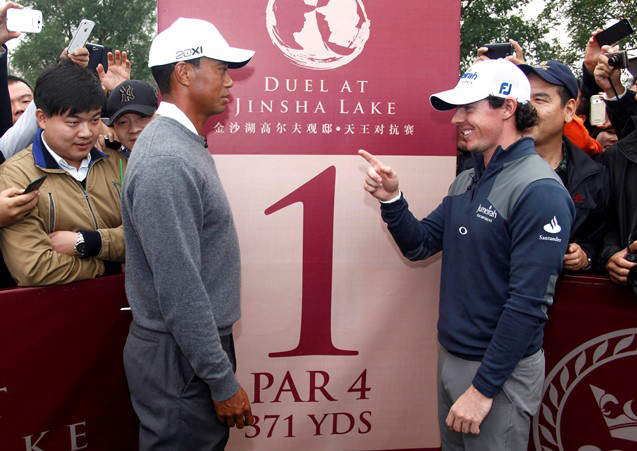 Tiger Woods and Rory McIlroy measure up in China. (GettyImages)
Mention golf to a casual fan these days and two names (and only two names) come to mind.
Tiger Woods and Rory McIlroy.
Tiger and Rory.
Tiger vs. Rory.
Rory vs. Tiger.
On Monday, Woods acknowledged that theirs is not a full-blown rivalry yet, but fans are sure trying their hardest to make it one.
And if this is going to turn into a 15-year bout for the title belt (I hope it does), young McIlroy took Round 1 (2011) by TKO and narrowly edged out Tiger in Round 2 as well.
Let's look at their tale of the tape for 2012:
PGA Tour starts
Woods: 19
McIlroy: 16
Both had a pretty scaled down schedule (as Woods has been doing for years). McIlroy played a number of events on the European Tour as well.
PGA Tour wins
Woods: Three (16 percent)
McIlroy: Four (25 percent)
Woods won three of his favorites (Arnold Palmer, Memorial, AT&T National) while McIlroy got super hot at the end of the season -- between Aug. 12 and Sept. 9 he won three of the four tournaments he entered!
Advantage: McIlroy
PGA Tour top 10s
Woods: Nine (47 percent)
McIlroy: 10 (63 percent)
McIlroy had the best top 10 percentage on tour. Tiger tied Dustin Johnson for second best at 47.
Advantage: McIlroy
PGA Tour top 25s
Woods: 13 (68 percent)
McIlroy: 11 (69 percent)
This is where McIlroy fell off a little bit. He actually missed the cut at three tournaments --including the Players and U.S. Open. Woods only missed two cuts.
Advantage: Woods
PGA Tour money earned
Woods: $6.1M ($323K per tournament played)
McIlroy: $8M ($503K per tournament played)
The top two money winners on Tour; nobody else was within $1 million. They actually earned more money combined ($14.2 million) than the bottom 180 Tour golfers combined ($14 million).
Advantage: McIlroy
World ranking
Woods: 3  (8.53 pts.)
McIlroy: 1 (13.22 pts.)
As was noted the other day, the gap between McIlroy and Woods is larger than the gap between Tiger and world no. 26 Hunter Mahan. That's pretty incredible.
Advantage: McIlroy
Majors
Tiger: 0
Rory: 1
The only place Mr. Woods keeps score.
Advantage: McIlroy
Major top 35s
Tiger: 3
Rory: 1
Really the only blemish on McIlroy's incredible 2012 was his poor performance in majors not named the PGA Championship. He missed the cut at the U.S. Open and finished T40 and T60 at the Masters and British Open, respectively. Woods tied for third at the British Open and at least competed at the PGA and U.S. Open.
Advantage: Woods
Ryder Cups
Woods: 0
McIlroy: 1
Advantage: This stings. McIlroy.
Head to head
Woods: 0
McIlroy: 1
Advantage: McIlroy
It didn't mean much, or so we were led to believe, but McIlroy beat Woods heads up in China last month.
McIlroy was obviously better than Woods this year, but not by as much as you might have thought. Woods is fully in the "I only care about majors" portion of his career and you could argue he was more consistent and, despite McIlroy's PGA win, actually better overall in the four big ones.
There's not a storyline on tour that will be more intriguing in 2013 than whether these two can finally hook up on the back nine of a major. It's a jolt the golf world wouldn't know what to do with and I for one am hoping it takes place.
For more golf news, rumors and analysis, follow @EyeOnGolf and @KylePorterCBS on Twitter and like us on Facebook.
SportsLine's Mike McClure, a DFS pro with more than $1M in winnings, gives optimal lineup...

Paris is just nine months away, and it's not too early to start talking about

This week always feels like a big one on the European Tour, and this year is no different
It's going to be a telling year for where McIlroy's career is eventually placed among the...

Big Cat and the 44th POTUS got in a game over the weekend

A scary situation emerged out of Honolulu during the Sony Open