Tiger Woods withdraws from the WGC-Cadillac Championship
Tiger Woods withdrew from the WGC-Cadillac Championship with just seven holes to play on Sunday at Doral because of an Achilles issue.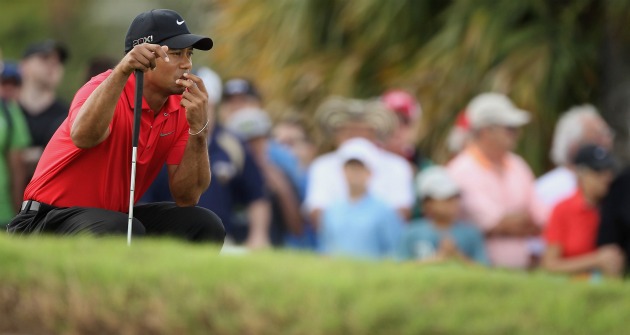 Tiger Woods had to withdraw from his final round at Doral because of a left leg injury. (Getty Images)
Tiger Woods withdrew from the WGC-Cadillac Championship on Sunday afternoon with just seven holes to play in the final round.
Tiger, who has said all season that it has been nice to be back and completely healthy, was wincing throughout his round on Sunday, even changing golf shoes between the 9th and 10th holes. He was missing short irons badly to the right, and was seen getting carted off when the pain finally got to him.  
Say what you want about Woods, but the man hardly ever pulls out of golf tournaments that he's entered in. His last WD was at the Players Championship a year ago. 
Here is the official statement from the Tiger Camp.


I felt tightness in my left Achilles warming up this morning, and it continued to get progressively worse. After hitting my tee shot at 12, I decided it was necessary to withdraw. In the past, I may have tried to continue to play, but this time, I decided to do what I thought was necessary.

I want to send my regrets to the World Golf Championships, Cadillac and the fans. The galleries were tremendous this week and I want to thank everyone for their support.

I will get my Achilles evaluated sometime early next week.
Tiger was 3 over on the day before he decided to hang them up, and 6-under for the championship. 

For more breaking news on Tiger's injury, follow Shane Bacon on Twitter.  
The No. 41 player in the world is all about core strength and his short game

The U.S. team is clearly jacked up for this event

A judge has ordered Green Jacket Auctions to take down some of its merchandise
Another player was disqualified before match play began because he failed to sign his scor...

The Solheim Cup starts this week, and Team USA is ready

Every is riding a three-tournament streak of made cuts