TMSC: What did we learn from Rory McIlroy's big win at the Deutsche Bank?
Our Tuesday Morning Swing Coach focuses on what exactly we learned about the Rory McIlroy win this past weekend.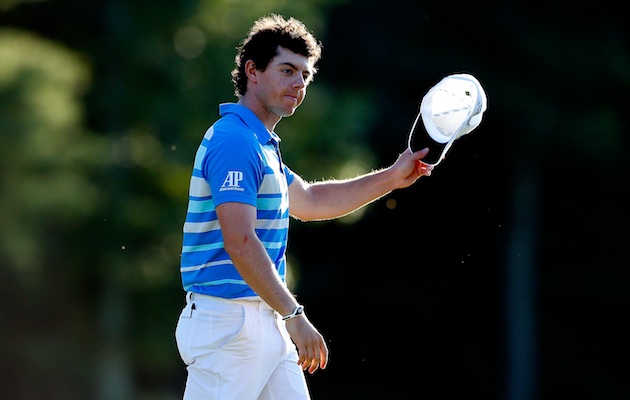 Rory McIlroy snagged his third title of the year with his B-game. (Getty Images)
Golf is probably the hardest sport in the world to play, and play well, so it makes total sense that everyone is a critic, and that's what we're going to do here at Monday Tuesday Morning Swing Coach. Cover just the PGA Tour? Nope. We're going to try to expand this Monday Tuesday feature to anything and everything that happened the past weekend.
Rory McIlroy won his third PGA Tour title this past week at the Deutsche Bank Championship, and since you know that, let's go ahead and dive into what we learned from that victory. 
-- Like Tiger back in his heyday, Rory McIlroy can definitely win without his "A game." To say he was flushing the golf ball in the final round of the Deutsche Bank Championship would be a lie, but he scrapped it around, hit some great recovery shots and did just enough to snag his third PGA Tour title of the year. It's interesting, because we see so many great players struggle to win with their best games possible (look at what Louis Oosthuizen did on Sunday, and he still couldn't give himself enough cushion in the final round), so seeing Rory win like this really helps show just how special this kid is. 
More on Boston
Related links
-- Speaking of Louis, is it just me, or does it seem that guys are starting to play a little different when paired with Rory? On Sunday, Oosthuizen was brilliant for a stretch of seven holes, but even he couldn't close out that round. On Monday, he was a completely different player, struggling to hit even the most generic golf shot, and I'm starting to wonder if playing with a guy like Rory, with the perfect swing and multiple major championships, is starting to intimidate players. It happened at TPC Boston. We will see how some of the Americans deal with it at Medinah.
-- Also, that win proves that Rory is the best player in the game right now, and nobody is really close. Yes, Tiger fans will point out that the two have the same amount of wins this season, but McIlroy has won three times, including that PGA Championship, and you could almost say that was the fewest amount of wins he should have had. He was in that playoff at the Wells Fargo. He was in serious contention at Augusta after two rounds, and he even battled at Doral after a spotty opening 73. Rory has to be your favorite during the next two weeks of these FedEx Cup playoffs, if only …
-- He can stay focused. Yes, the kid is in a rhythm right now, but we still need to see him continue this for long stretches. Tiger was able to do it. Jack had it. Arnold could really get it done, and Byron was the best at it, so before we can anoint him with all the accolades we want to anoint him with, we need to see him do this, and collect wins, in bunches at a time.
Another Solid, But Soft Finish For Tiger Woods
As a golf fan, watching Tiger Woods do what he did on Monday at TPC Boston was downright frustrating. Any sports fan with any respect to history was rooting for a Tiger-Rory showdown late on that Labor Day Monday, and after Tiger's front nine, it seemed that might just happen.
But the aggressive Tiger, the one that used to knock down flagsticks and roll in birdies dead center with plenty of speed, almost seems history. 
Yes, yes, yes, I know he's still a good player and I'm not harping on the guy for finishing third, but that's the problem; third was as good as he was going to finish with the way he played that back nine.
Irons shots (wedges and 9-irons!) to the safe portions of the green, putts with good speed but with never a chance of going in, and even on the final hole, when eagle was a must, Tiger hit a decent shot into the green but couldn't make the putt and this was after one of the easiest rolls of the day on the 17th that he couldn't convert.
It's just … Tiger can't make himself go crazy anymore. He gets himself into these positions, and if nobody else is having an incredible week he can walk away with the trophy, but when it comes down to it, and he has to go on one of those patent Tiger runs, it's like the trigger is rusted and won't go off anymore.
I love when Tiger is in contention, because it's good for the game and good for the players and good for just about everyone associated with golf, but to see him play the final nine holes with eight straight pars and a two-putt birdie on the last was frustrating. 
Rory and Louis were basically handing that tournament to anyone who wanted to make a serious run at the title, and Woods couldn't do it. 
Third place is fine if you really, really want to finish in the third place. 
Stick with CBS Sports throughout the week for the latest from the PGA Merchandise Show

There will be over 1,000 companies showing off their stuff in Orlando, Florida, this week

Big Cat is back, but he'll have loads of competition at Torrey Pines
Big Cat is officially active this week at Torrey Pines for another go at a full season

SportsLine simulated the 2018 Omega Dubai Desert Classic 10,000 times and has some surprising...

SportsLine simulated the 2018 Farmers Insurance Open 10,000 times with some surprising res...