Turkish golf event so bizarre even Rory McIlroy is giving up on it
The Turkey money grab this week has been a strange one, with Rory McIlroy's opponent saying even the No. 1 in the world lost interest.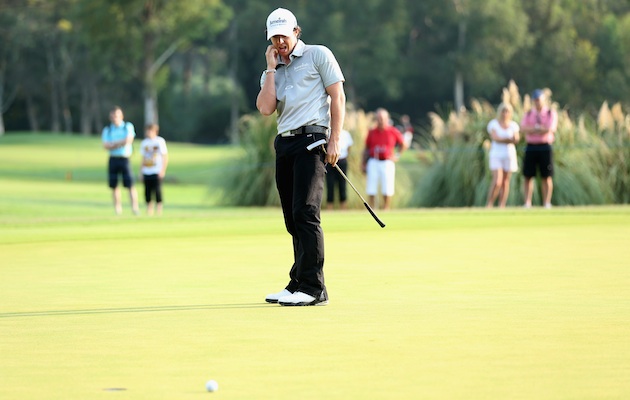 Rory McIlroy might have checked out, but at least the galleries are huge in Turkey. (Getty Images)
To say the Turkish Airlines World Golf Final has been strange would be an understatement. For starters, the event that includes Tiger Woods and Rory McIlroy isn't being aired in the United States, and the format has a lot of people (myself definitely included) scratching their heads at just how it works (a stroke play/match play hybrid?!).
The event started with the leading golf official from Turkey getting into an altercation with a cameraman on the first tee before Tiger Woods' match. And the scoreboard for the event's website looks like something you would create with Microsoft Paint.
So I guess you can't fault world No. 1 McIlroy for supposedly losing interest in his opening match against Matt Kuchar. According to the Daily Telegraph's James Corrigan, McIlroy seemed ready to leave the golf course after his horrible finish in his opening match of the event. Even his playing partner noticed.
The Northern Irishman was level with Kuchar -- another member of the losing Ryder Cup team at Medinah 12 days ago -- on the 15th when his own seven caused his challenge to implode, as he dropped seven strokes in three holes.

Kuchar said he believed his opponent "lost interest" after chopping around in the trees on his way to a triple bogey and McIlroy admitted as much. "I was playing pretty well until the 15th, then I hit it into the hazard on 16 and was just trying to get the round done," he said.
Now before you go bemoaning McIlroy for not caring, understand a few things.
First, read the opening graph to this story. This is a golf event that is a money grab for anyone invited and McIlroy just came off a run of golf that included a major win, two FedEx Cup playoff wins and an incredible comeback at the Ryder Cup.
The kid is probably tired as we would all be, and I'm sure he didn't circle "Turkish Airlines" as an event he had near the top of his radar. 
Every athlete hits a wall, and if McIlroy can do so while collecting a six-figure check, good for him. 
If nothing else, this simply shows that some money events just aren't worth your time, even if you can win more than a million bucks.
Paul Casey looks to shut down the tournament at East Lake on Sunday

The final round of the PGA Tour season is all that stands between Paul Casey and $10 milli...

The FedEx Cup is a bit complicated, but it gets simplified this week as the field is cut to...
The pairings are reset once again as Justin Thomas co-leads after 36 holes

Find out when and how to watch the 2017 Tour Championship live this week

Justin Thomas is tied with Webb Simpson and Paul Casey going into Saturday