WATCH: Tiger Woods' swing looks better, but it's still not great
Tiger Woods' swing has improved from, say, a month ago. But it still looks stuck throughout the finish.
Let's talk about Tiger Woods' swing. We might as well. We aren't going to be talking about him playing tournaments anytime soon (or are we?).
Nick Schwartz of Fox Sports put together this really good GIF comparing Woods' 2014 swing to the one he made at the opening of Bluejack National on Monday. The 2014 swing is on the left. The 2016 swing is on the right.
But this isn't necessarily the right comparison. In 2014, Woods was still working with old instructor Sean Foley. Since then, he has switched to Chris Como in an attempt to regain a "new old swing" (whatever that means).
You have to remember Woods is now on the fifth (!) iteration of his pro swing. He said last year that he switched from Foley (again, that swing above on the left) to Como (presumably the swing on the right) at least partly because of an aging body.
"I think that physically, I just wasn't able to do some of the things that we wanted to do in the golf swing," said Woods about Foley. "We looked at a lot of video from when I was a junior -- even when I came out there and had some really nice years where I hit the ball really well. We went back to some of those old videos and really looked at it."
This video breaks down what the change allowed him to do which was ostensibly become more upright through the ball with Como.
You can even see here how much more upright Woods was in 1997 than in 2014 (from the Schwartz GIFs).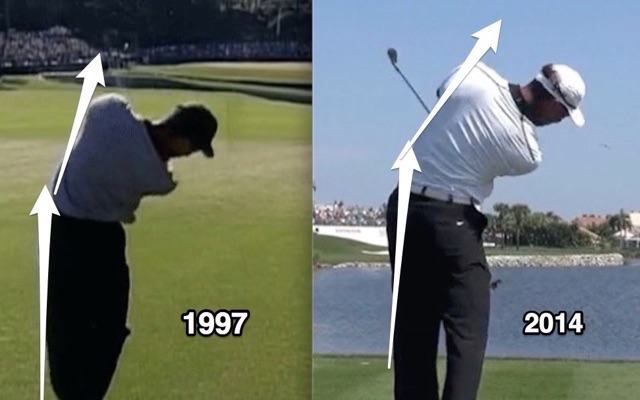 It seems in the videos from Houston like he's trying to get back to 1997. That's a good thing for his back, and it explains at least partially why he looks a little stiff in 2016. He's certainly more upright now than in 2014.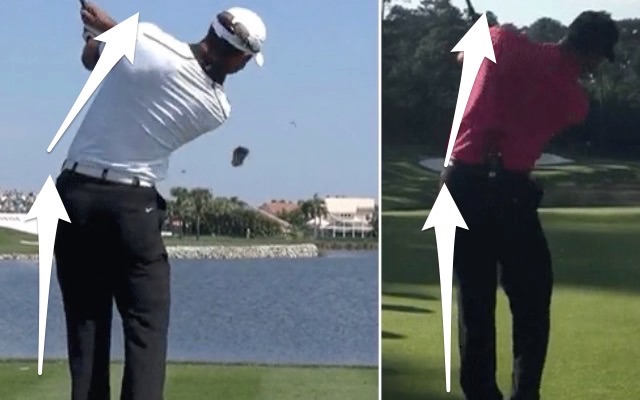 Golf Channel analyst Brandel Chamblee even tweeted about it in December 2014 when Woods switched. 
Tiger is more upright and his swing is longer. Both good signs. pic.twitter.com/m0OKWRn59s

— brandel chamblee (@chambleebrandel) December 2, 2014
The thing that is a bit disconcerting -- at the risk of going full Brandel and breaking down Big Cat's spine angle (which I guess I've already done) -- is that Woods' finish seems ... uncomfortable. Maybe that's all right, but it seems like he's getting stuck at the end instead of flowing through it like he did in 1997. 
Maybe that will get worked out over time, but it certainly doesn't look pretty right now.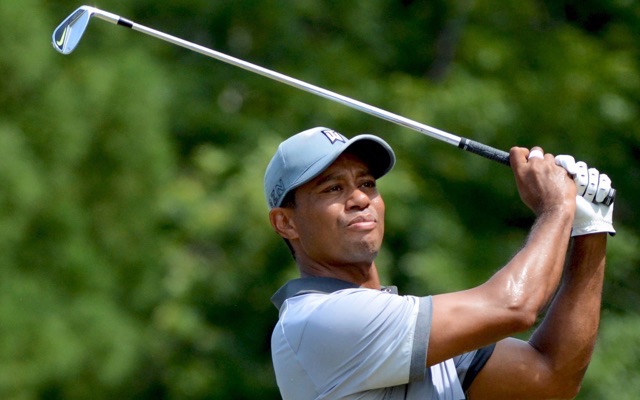 Will the United States win its sixth straight major at The Open Championship in July?

SportsLine simulated the 2018 Travelers Championship 10,000 times and came up with surprising...

After Brooks Koepka won the U.S. Open, we now look ahead to The Open Championship at Carno...
The new 3M Open at TPC Twin Cities will begin in 2019

Danny Kanell and Raja Bell talk about why Brooks Koepka and Tommy Fleetwood's race was fas...

Koepka joins an exclusive class that includes Tiger Woods, Ernie Els and Jack Nicklaus