Weather forecast for Sunday at the British Open calls for gusty winds
The weather might turn more British Open-y at Lytham & St. Annes for the final round with winds expected to increase.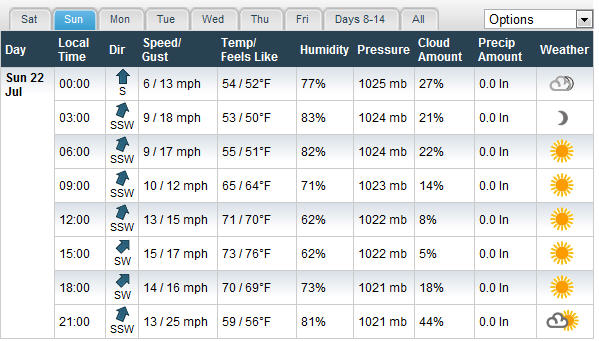 Let's face it, the weather through the first three rounds of the 2012 British Open hasn't exactly made you feel like wrapping yourself in argyle and eating haggis by the pound. We've seen more bicep than umbrella through 54 holes, but the weather might actually change, according to the meteorologists that have yet to get a day right.
Yes, winds are expected to blow, with gusts reaching up to 25 miles per hour, a welcome sight to anyone on down the leaderboard hoping to pull a Ben Curtis at Royal Lytham & St. Annes.
What does windy conditions mean for the leaders? Simply, it won't be as easy as they thought. When the weather is perfect, it helps the guys atop the leaderboard because few people are able to go out and post ridiculously low numbers at major championships on a Sunday. When the winds pick up, the leaders could stumble and a 67 or 68 from a guy well down the leaderboard could vault him ahead of a ton of guys who can't handle the conditions.
So, yes, the winds are supposedly coming. Stay tuned. 
The next season of golf has a real chance to be one of the best any of us has ever seen

This season will fascinate as old stars converge with up-and-coming superstars

With a single golf lesson up for auction, Tiger Woods changed some lives forever in Texas this...
The Days have had a rough 2017 from beginning to end

Why in the world would a former FedEx Cup winner hop on 24 hours worth of flights this wee...

Following the debacle at the ANA Inspiration earlier in 2017, Thompson has some thoughts