Webb Simpson and Bubba Watson steal show Friday at Ryder Cup
The duo of Webb Simpson and Bubba Watson set records and made a statement Friday at the Ryder Cup.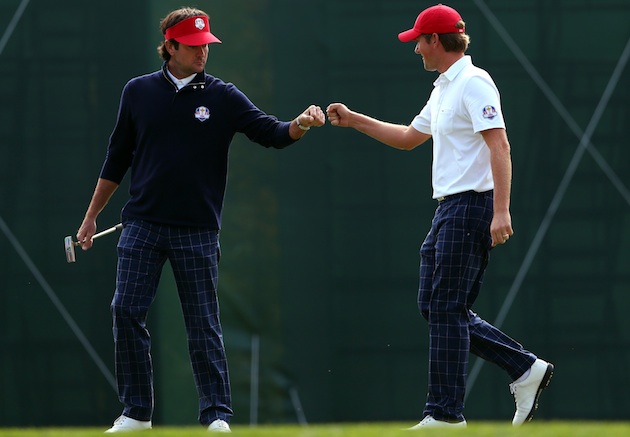 Bubba Watson and Webb Simpson played their 14 holes on Friday afternoon 10-under. (Getty Images)
One of the main reasons the Europeans seem to always take to team matches in the Ryder Cup is chemistry. Players from Great Britain seem to mesh, as do the Spaniards and those chaps from Northern Ireland and just about anyone who shares a smilier outlook on both golf and life. The Americans, by default, can be a little more reserved. And it seems when the team matches come about, it isn't so easy for them to be as comfortable.
But things sure change, and the duo of Webb Simpson and Bubba Watson was born at the Presidents Cup a season ago in Australia. Both share a similar faith and seem to get along really well on and off the golf course. If Royal Melbourne was their jumping off point as a group, 2012 has been a springboard for their personal fame with Bubba taking home the Masters and Simpson capturing the U.S. Open.
More on the Ryder Cup
More Golf coverage
Once again, Simpson and Watson found themselves at a team event together. Once again, the captain was smart enough to let them play together and get out of their way. On Friday at Medinah, Watson and Simpson sat out the morning matches but were paired against Paul Lawrie and Peter Hanson in the first match of the afternoon fourballs. All they did was play their 14 holes 10-under, winning 5 & 4.
How good were the two Americans? For one, they set the low scoring record in fourball history at the Ryder Cup on nine holes. That included a missed five-footer for birdie on No. 9 by Simpson.
More important, it was an absolute team effort with Watson winning three holes and Simpson three -- but holding off the Euros a few times with clutch pars to keep them from getting back in the match.
One of the fun things about the Ryder Cup is watching a team jell. Captains can mess around with players here or there when they see fit. But when you see two guys you know want to play together and enjoy doing so, the smart move is to usually just let them pair up and go play golf. Steve Stricker and Tiger Woods were like that at one point. We watched it in the past with Sergio Garcia and Luke Donald, and now we have it with Watson and Simpson (not to mention Keegan Bradley and Phil Mickelson).
Sometimes the only thing a player needs is a partner they enjoy. If you can find that, and the players can feed off one another, you might have a team for Cups to come.
I'd say after this performance on Friday and the way the two played at the Presidents Cup, WEBBUBBA as the Internet took to calling them on Friday is a sure bet for any and all captains. 
Phil Mickelson returns and the Web.com Tour is cleaning up

Lefty returns at the CareerBuilder Challenge this week
Find out when and how to watch the 2018 CareerBuilder Challenge live this week

The Ulsterman played solidly down the stretch on Thursday

With three months left before the first major, let's look at the field