Webb Simpson takes advantage of Moving Day at the U.S. Open
Webb Simpson did just enough to get himself in the mix at the U.S. Open with a third round 68.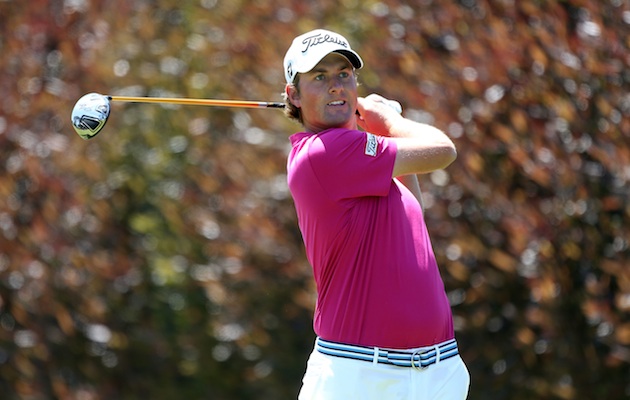 Webb Simpson is looking to improve on his T-14 finish at the 2011 U.S. Open. (Getty Images)
SAN FRANCISCO -- The golf world is always looking for the next big thing. We're crowned a young Northern Irishman as the Second Coming, a teenager from Japan as our newest worldwide phenom, and the shaggy haired American as the guy that is going to put golf back on the map. 
But occasionally a young player sneaks under our noses. Enter Webb Simpson.
The 26-year-old shot an impressive 2-under 68 on Saturday at the U.S. Open, jumping up spots as the leaders continued to fall back to the rest of the field. Simpson was barely a story after rounds of 72-73 to start the week, but we all knew Olympic Club wouldn't let anyone run away with this championship, and if you hung around long enough, you might be right there.
Simpson did that. He made five birdies on Saturday, offset by three bogeys, and nearly cashed his putt on the 18th that he thought was in. 
"I thought I made that one.  Par, I told myself even before I got up to the putt, pars are always good here.  Can't be disappointed if you don't make it," Simpson said after his round. 
Simpson turned professional in 2008 at the ripe age of 22 and has won two PGA Tour events since. In just 107 PGA Tour events, Simpson has 22 top-10 finishes. But the really impressive thing has been how he's played in his short major championship career.
In his first major, the 2011 U.S. Open, Simpson finished T-14, and followed that up with a T-16 at the British Open. In four majors, he's missed only one cut with the two top-20 finishes, and seems to have the game to play well at this particular event.
So what is the plan now, with Webb awaiting to see how far back he might be by day's end?
"I'll come up with a game plan tonight a little more after I see the scores, see what the guys are doing, and if they make a run and I'm five back the game plan the might change a little.  But if I'm only a couple back going into tomorrow we'll come out and try to do the same thing."
The interesting thing about Saturday at Olympic was that the course didn't seem to be as harsh as it had been on Friday. With the final group still not on the back nine in the third round, as many rounds of sub-70 had been posted as they had all of Friday.
Saturday is historically called Moving Day, and Simpson did just enough moving to give himself a shot on Sunday. Now, the waiting game. 
Everything about the event so far this week has been a home run

Rahm lost his lead, but a 67 keeps him in the chase at CareerBuilder

Koepka is looking to recover in less than three months to play at Augusta National
Thomas Pieters and his Ryder Cup partner could go at it for a title this weekend

Phil Mickelson returns and the Web.com Tour is cleaning up

Lefty returns at the CareerBuilder Challenge this week