What do the leaders at the U.S. Open need to do to win?
We take a look at the leaders at the U.S. Open, and what each needs to do on Sunday to win.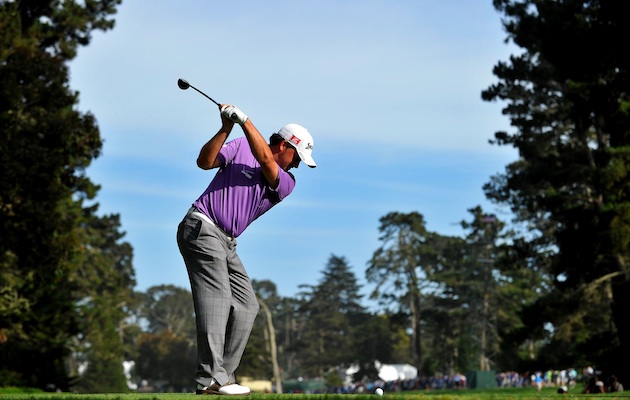 Graeme McDowell is just one of a number of guys on a stacked U.S. Open leaderboard. (Getty Images)
SAN FRANCISCO -- The 2012 U.S. Open has given us a great first three days, but nobody could have predicted this exciting of a leaderboard for the final round. Two major winners sit atop as the only players in red figures, but there are a lot of hungry names chasing, including the outside chance of a Tiger comeback. What do each of these leaders need to do on Sunday to give themselves a chance? We examine, with odds courtesy of Bovada.lv. 
Jim Furyk (Odds: 11/4) -- The plodder, as he's happily accepted being called, has done exactly that this week, but if Furyk wants to win this thing, he must continue to hit greens like he did the first three days. Furyk is second in the field in greens in regulation, hitting 68.52 percent of them, and it would be easier for him if the guy could find more fairways. He's only hit 20 of 42 this week, so if he could get the ball in the short grass on these tough driving holes, he would definitely put himself in a position to do what he does best. 
Graeme McDowell (Odds: 11/4) -- If you look at McDowell's week so far, you wouldn't see anything exceptional. He's hitting the ball in the fairway decently well, he's hitting his share of greens, but the thing that stands out is how he's handled the tough Olympic Club greens. The guy has one three-putt all week, incredible for how fast they're rolling at the U.S. Open, and if he keeps that up, especially deeper into the round, he will be in a great spot. The other thing that McDowell must do better? Play holes 5-9 better. He is six-over in that stretch this week, playing the short par-4 7th 1-over par. If he can do that, and continue to kill it coming home (6-under on holes 13-18 over the first three days) he is most likely going to see his name on that trophy once again. 
Fredrik Jacobson (Odds: 14/1) -- If you're surprised the Swede is just two shots back of the leaders at this major championship, don't be. In his last four major starts, Jacobson has three top-20s, and he does it mainly with the flatstick. Jacobson might not be the sexy pick to take home this U.S. Open, but if he can keep up the scrambling (4-for-4 in sand saves this week) and keep pounding it off the tee, we might add another upset winner to the Olympic Club lore. 
Lee Westwood (Odds: 11/2) -- One day in you would have thought Westwood shot 90 by the way everyone talked about the Big Three pairing, but he was able to settle his round down and his 67 on Saturday is tied for low weekend round. He made five birdies in his third round, and will most likely need that many again on Sunday to give himself a chance. Westwood is arguably The Best Player Without a Major, and for some reason, this feels like the one he could sneak out being three shots back of the leaders. A lot of birdies, a little better ball-striking, and Westwood should be right there. 
Blake Adams (Odds: 40/1) -- Only one other player has more birdies than Adams does in the first three rounds of the U.S. Open, so that's good for the proverbial dark horse, but man, could you imagine if two of the last three major winners won their first major start? That would be the case if Adams took this thing down, joining Keegan Bradley at last year's PGA Championship. Adams could do a better job at hitting some fairways on Sunday (he's 20 of 42 this week), but for now, just keep being the random guy with the long shot and hope the leaders fall apart.
Ernie Els (Odds: 18/1) -- Dude, hit. more. fairways. It's insane. Ernie is three shots back of the lead and he's hit 13 of 42 fairways, good for second to last in the field. The crazy part is, he is making a ton of birdies. On Friday and Saturday, Ernie has made seven birdies and an eagle, and he more than anyone in the field has taken advantage of the short par-5 17th (he's 4-under on it this week). We've seen his putting stroke get shaky late at golf tournaments, so if he can iron out those nerves, he might have a chance.
Nicolas Colsaerts (Odds: 20/1) -- For a guy that absolutely pounds the ball off the tee, Colsaerts has played Olympic Club awfully smart (he hit iron off the tee on the short par-4 7th on Saturday, going with his philosophy about never being out of position). Colsaerts has struggled on the lengthy par-5 16th, but with the tees moved up on Sunday, he might have a better chance of taking advantage of his length and making a score that could leap the leaders. If you erase his start on Thursday, where he made two double-bogeys over his first three holes, he'd be atop the leaderboard. 
Beau Hossler (Odds: 80/1) -- Continue to act like you're the only person in San Francisco that doesn't know you're 17-years-old. Hossler is supposed to be that classic case of the young kid that crashes and burns over the weekend, but he still hasn't done it. Why? Because he continues to bounce back from bad holes with birdies. He will need to keep that putter hot on Sunday to have any chance at being the golf story of the millennium.
Tiger Woods (Odds: 12/1) -- What does he need to do to win this thing? Forget that Saturday happened. Erase it from your memory, burn that tapes from NBC and avoid all scoreboards that remind you of that sloppy 75. Tiger hit the ball brilliantly for the first two days, so if somehow he can recreate that, he might have a chance. That said, he's going to need to be more aggressive on Sunday if he thinks he's going to win, which means more drivers off the tee to allow him to attack some flags. Also, maybe Tiger could birdie No. 7 in the final round, something he has failed to do the first three days. 
The FedEx Cup is a bit complicated, but it gets simplified this week as the field is cut to...

Updates from Moving Day at the 2017 Tour Championship in Atlanta on Saturday

The pairings are reset once again as Justin Thomas co-leads after 36 holes
Find out when and how to watch the 2017 Tour Championship live this week

Justin Thomas is tied with Webb Simpson and Paul Casey going into Saturday

We have an update from Big Cat, and it's an encouraging one