What do the leaders need to do on Saturday at the Masters?
We look at each of the leaders at the Masters and see what they could do to make a move on Saturday at Augusta National.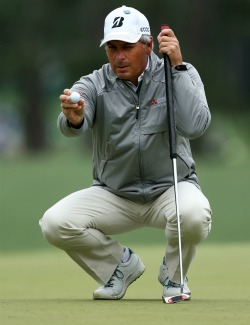 Fred Couples eyes a birdie putt on Friday at Augusta National, and will need to keep that up to have a chance. (Getty Images)
Augusta, Ga. -- Saturday is famously known as Moving Day, moreso at the Masters than most others because Saturday is the chance to make a move before the drama of Sunday unfolds. So with such a stacked leaderboard, what are the leaders going to need to do on Moving Day to get themselves in a position for a green jacket? 
Jason Dufner, 5 under -- He might be the least noticeable player of all the leaders, but don't forget this guy has been tied for the lead in five of the past six rounds at major championships dating back to the 2011 PGA Championship. Dufner needs to continue to hit a lot of fairways (82.14 percent this week) and make a lot of putts (third in the field in putting per green in regulation). He's not as recognizable as the rest of this list but Dufner has been playing some great golf, and as long as he can avoid letting the fact that he's leading the Masters on the weekend get to him, he should be good. 
Fred Couples, 5 under -- There is a very simple reason why Couples is where he is on this leaderboard and it's his putter. He's averaging a little more than 1.5 putts per green and has yet to have a three-putt. His other stats are rather pedestrian, so if Freddie could hit a few more greens (only 63 percent on the week so far) and keep making those putts, he will be fine heading into Sunday. 
2012 Masters

Bubba Watson, 4 under -- Not shocking that Bubba is fourth in driving distance and tied for seventh in greens in regulation, but for Watson to make a move, he's going to have to make more putts (after the second round he said, "I'm not very good at putting," which isn't great for his confidence no matter if he was joking or not). Watson is currently T-45 in putts per green in regulation, so for him to have a chance at a first green jacket, he must heat up the putter. 
Sergio Garcia, 4 under -- You ready for something shocking? Sergio is second in the field in putts per greens in regulation. For a guy that has always seemed to struggle with the flat stick, that is a rather remarkable stat, and he simply needs to keep it up. The one thing that sticks out in Sergio's first two days is how he's struggled out of the sand (1 of 5 so far in sand saves), so if he can avoid the bunkers and keep hitting fairways, he will be in a fine position for a first major championship. 
Rory McIlroy, 4 under -- Basically, just keep playing like Rory McIlroy. He struggled in his first round but bounced back with some late round birdies, and has been hitting greens like he normally does. Rory is back again at Augusta and it seems he's the favorite at this point for a second straight year, so just avoid letting the Augusta demons back in his head and just go play Rory golf. 
Louis Oosthuizen, 4 under -- You want to know why the former British Open winner is where he is? Because the guy is steady in every facet. He's T-11 in driving distance, T-9 in fairways hit, T-13 in greens in regulation, and T-7 in putting. Keep that up, and it could be formula for a second major. 
Lee Westwood, 4 under -- He's leading the field (with Stewart Cink) in greens in regulation, but needs to cut down three-putts if he wants to have a chance (he's got two already this week and is T-58 out of 63 guys in total putts). If he can get the rock rolling at this course, he could be the one guy to really run away with this thing. 
Phil Mickelson, 2 under -- Simply hit the ball better. He's first in the entire field in putts, with just 51 through 36 holes, so if he could actually find a green or two (only 52 percent on the week) he might have a chance to go really low, which he will need to do with such a stacked leaderboard. 
Tiger Woods, 3 over -- Hope the rest of the field gets a really bad case of the stomach flu (oh, and maybe hit a fairway before the week is done ... he's dead last in the field with Aaron Baddeley in fairways hit). 
In a big-purse, star-studded field, who will prevail at the first Korean event ever?

As France prepares for the 2018 Ryder Cup, Jim Furyk and Thomas Bjorn show off their accur...

To get things done at Augusta National, Ridley said you can't care who gets the credit
Woods has not played a full tournament since missing the cut at the 2017 Farmers Insurance...

He's one of the best quotes in the golf world, and he didn't disappoint in Malaysia

The No. 7 player in the world had a busy weekend in Stillwater