What does Charlie Beljan want now? Practice round with Tiger Woods
Maybe not the most normal of requests, but it's what the latest PGA Tour winner wants.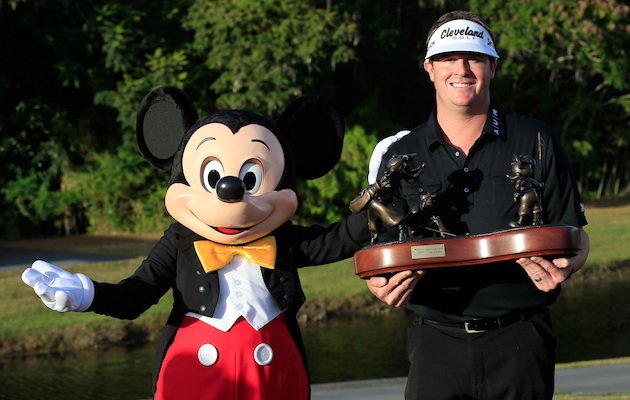 Hopefully, Charlie Beljan can trade Mickey for Tiger in 2013. (Getty Images)
It was an unlikely win this past weekend at the Children's Miracle Network Hospitals Classic, but anybody on the PGA Tour knows that there is a huge difference between someone who has won an event and someone who hasn't.
Charlie Beljan is the latest to join that group of guys with a big trophy on their resume. And after his round on Sunday, he mentioned one thing that he wants.
A golf date with Tiger Woods.
"Hopefully this will put me in the position, (since I'm) still looking for my No. 1 thing since I got out here and that's to play with Mr Tiger Woods. So maybe now he'll consider me on a practice round or something."
It might be a funny request, but it just further shows how big of an influence Woods was to all of us in the golf world growing up. Beljan just turned 28. While he isn't that far behind Woods in years, he definitely spent a lot of his days watching Tiger win tournaments and dreamed of one day competing against him on golf's biggest stages. 
Now that Beljan is a PGA Tour winner, the chance of getting out with Woods might definitely happen. The one thing that Beljan has going for him is that Tiger does love playing practice rounds with guys who can bomb it off the tee. It was what initially drew Tiger to Bubba Watson at the start of his career and might help Beljan check off one item on his bucket list. 
Stick with CBS Sports throughout the week for the latest from the PGA Merchandise Show

There will be over 1,000 companies showing off their stuff in Orlando, Florida, this week

Big Cat is back, but he'll have loads of competition at Torrey Pines
Big Cat is officially active this week at Torrey Pines for another go at a full season

SportsLine simulated the 2018 Omega Dubai Desert Classic 10,000 times and has some surprising...

SportsLine simulated the 2018 Farmers Insurance Open 10,000 times with some surprising res...