What is the coolest part about being a Ryder Cup captain?
Ryder Cup captains have a ton of stuff they must do, so what is the best part of the job?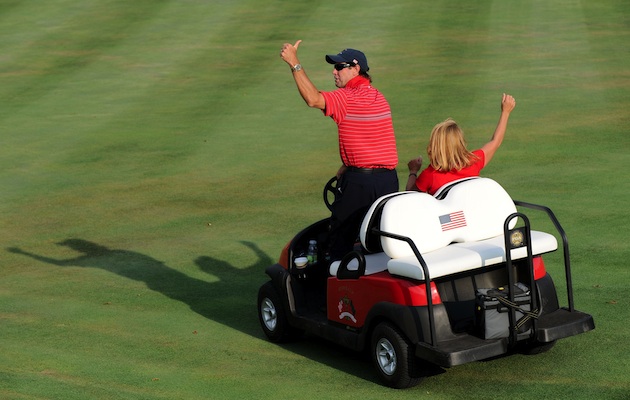 Paul Azinger knows what we're talking about with those captain golf carts. (Getty Images)
Being a Ryder Cup captain has to be awesome. It means you're an incredible legend in the golfing community, and you yourself have been on a team or two before. It also means that the responsibility piles high as the days heading into the Cup run short, and while some of the things you have to do probably aren't the best, being the captain has to be a once-in-a-lifetime experience.
So what are the best parts about being a Ryder Cup captain? We take a look.
Captain's Picks -- Back in the old days, you only got to choose two guys for the team that didn't automatically qualify, but now you get four. 4! That means on Friday, with the fourball matches being the only on the course, half your team could be just your captain's picks. 
I know that, like on "Hard Knocks," cutting people is awkward, but if you like a guy, or you think a guy is good, he's going to be on the team, no matter what anyone else says. (that is, unless you don't like Tiger Woods and there is a rookie named, say, Keegan Bradley that probably should be on the team but Tim Finchem hacks your phone and makes the call to Tiger that he's on the team and you can't do anything about it. In that case, it isn't in your hands.)
The Outfits -- Ohhh, man. Nothing sounds more fun than picking out clothes to dress your millionaire minions. Remember those horrible Sunday outfits during the 1999 Ryder Cup? Or the rain gear controversy from Wales? It's all on you! 
I always love the outfit choices because A.) no matter what, there is always two or three guys wearing sweater vests (Tiger included) and B.) you get to see a lot of players that normally wear hats they stole from X-Games participants in a normal, pro shop-quality cap that makes them look like the airlines lost their luggage. If I was the captain I'd definitely spend 4-12 days too long on the outfits.
Picking Teammates -- Even thinking about doing this stresses me out, but as a captain, I'm sure it's pretty fun. You have your guys go out and play practice rounds like they don't know each other that well (hint: all of these guys know each other very well), and then you overanalyze everything in hopes of not pulling a Hal Sutton (that is, putting Tiger and Phil together and having the whole world dissect your move for the next 10 years).
Who knows how much chemistry plays in these sort of things, but to place legends like Tiger and Jim Furyk together would be an ego booster and would feel absolutely amazing. 
Also, anytime you screw up a team the entire world thinks you're a moron, which is also fun.
Those cool golf carts you get to drive -- Has anyone ever seen a golf cart without a roof at any course in America that isn't a PGA Tour/Ryder Cup event?
Those earpieces -- I'm fairly certain that's just the vice-captains listening to NPR. 
The co-caddying -- I love when the captains try to "pump up" the golfers by walking down the fairways with them if they're down in a match, telling them things like, "This birdie is for your country!*" 
*Okay, so maybe they don't say that, but it would be cool. I'd definitely say that all the time, just to see the annoyed look guys like Dustin Johnson would shoot your way. 
Dealing with team meetings -- I have absolutely no idea what goes on in those team meetings, but I bet it's pretty fun to slum around with some of the best golfers in the world and chat about strategy, life, chicks and ping-pong.
Also, being in charge of the menu would be a pretty awesome subplot to the after-golf festivities. 
Winning -- Well, yeah, if you win, it would be cool to be the captain. 
This video of Ross Fisher hitting a perfect drive is fabulous

The rookie gets his first-ever win in just his 14th PGA Tour start

The final event of the European Tour season had an anticlimactic ending, but Fleetwood took...
A PGA Tour rookie looking for his first win will take a nice lead into the final round of the...

Tommy Fleetwood is hot on his heels as the European Tour winds down

A tour rookie is leading a tour veteran by one at the halfway point in Georgia