What leaders need to do to win PGA Championship when play resumes
There are still over 27 holes left for the leaders, so we take a look at what all the guys near the top of leaderboard to grab this PGA Championship.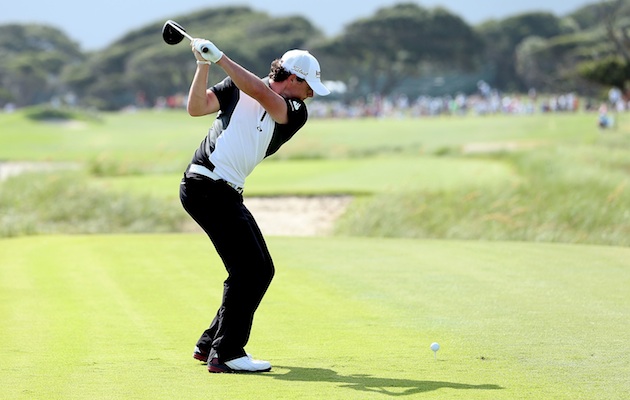 Rory McIlroy's hot start has him atop the lead at the PGA. (Getty Images)
As you probably know by now, the PGA Championship has been suspended due to some nasty weather at Kiawah Island. We are still a long way away from this thing ending, but here is what we know, and what to expect over the next 27 holes (or so).
Rory McIlroy, 6-under -- The youngster sure didn't come into the PGA with a ton of expectations, but wow, how about that start to his third round? After hitting a drive into a tree on the third hole, McIlroy went molten, making birdies on five of his first nine holes to tie the lead. You might think Rory needs to keep this going, but honestly, if he can play the back nine at around even par when play starts up on Sunday, he'll be leading come the final round.
More on PGA Championship
Related links
Vijay Singh, 6-under -- If you watched the telecast on Saturday, you might not have known how well Vijay started, but the former PGA champion made two solid birdies over his first seven holes before the horn blew. Singh showed up to Kiawah a week prior to the tournament starting, and definitely looks like he isn't intimidated playing with Tiger, so pars on the way in will be good for Singh just like it will be for Rory. 
Adam Scott, 5-under -- How great would this story be if Scott pulled a Kyle Stanley and won right after collapsing at the British? Scott made three straight birdies on Saturday before play ended, and seems to be back in Lytham form. For a lot of players, getting into the lead before the final round would be the prudent play, but I think for Scott, maybe or a shot or two back heading into the last round of a major would do him good. 
Carl Pettersson, 4-under -- For the Swede, begin the anonymous one on the leaderbaord seems to fit him well. I liked him before the week started, and he has continued to play solid at Kiawah, playing his first eight holes even par. Pettersson might be two shots back of McIlroy and Singh, but he hasn't seemed to get rattled by the major championship pressure, and would fit the mold of random PGA Championship winners if he kept this up for the next 27 holes.
Bo Van Pelt, 3-under -- What does Van Pelt need to do? Relax. Bo shot a great 5-under 67 on Saturday before the weather turned, and is the 54-hole clubhouse leader at Kiawah. For Van Pelt, rooting for high winds on Sunday morning seems like the smart choice, and hope that the leaders continue to creep back his way. 
Trevor Immelman, 3-under -- What a shock, right? Immelman, the former Masters winner, hasn't had a top-10 since his '08 triumph at Augusta National, but seems right at home at this golf course, playing Kiawah just like he should. Immelman would be one of the biggest two-time major shockers in the history of the sport, but if he can keep hitting the ball like this he'll be right there come Sunday.
Tiger Woods, 1-under -- What does Tiger need to do to turn this thing around? Forget about Saturday and start playing golf like he did the first two days and not in the third round. Tiger played really bad golf for seven holes, but he still isn't out of this thing, and will need to start attacking the par-5s on the back nine in his third round to get him back near the lead come the final round. 
A pair of lefties are in prime position to win the 2018 Masters

SportsLine simulated the 2018 Qatar Masters 10,000 times and came up with some surprising...

SportsLine simulated the 2018 Honda Classic 10,000 times and has some surprising picks
After his third win at Riviera, it's time to raise expectations for Watson

It was a star-studded week in Los Angeles, and this tournament (as always) delivered the g...

Long John pumped one in at TwinEagles Golf Club in the final round