What should we be making of this FedEx Cup final?
The Tour Championship is here, so we take a look at which scenarios we really hope happen, and if the system is starting to work.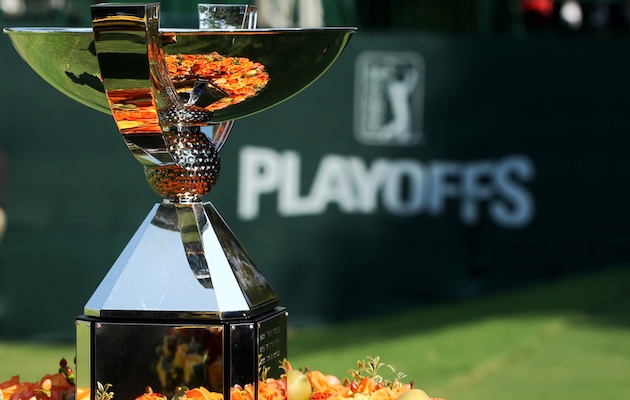 On Sunday, someone will have this trophy, and a very large check. (Getty Images)
The final leg of the FedEx Cup kicks off on Thursday, and despite the fact that Tiger Woods already has said he doesn't find the system "quite fair," we still get one final push of golf playoffs before the PGA Tour season winds down.
You know the obvious scenarios right now: if Rory McIlroy, Woods, Nick Watney, Phil Mickelson or Brandt Snedeker win this week's Tour Championship, they win the FedEx Cup. But what about some of the wackier possibilities for the outcome? 
We investigated and had some fun doing it.
First up are some of my favorite FedEx Cup playoff possibilities. As we saw last year, the tournament can be decided, but a playoff might ensue if the $10 million is still up for grabs (but as you know, 2011's playoff was for both the FedEx and the actual tournament).
Here are some of the best playoff match-ups if the following happens:
-- Lee Westwood wins the Tour Championship and McIlroy finishes third. If that happens, playoff time between the two chummy/not-so-chummy European Ryder Cuppers would make for great TV.
-- Jason Dufner wins the Tour Championship and Snedeker finishes second. This would be a ratings bonanza!
-- Hunter Mahan wins the Tour Championship and McIlroy finishes 15th. I really hope this happens so we can see Mahan in another FedEx playoff.
And now for our favorite scenario wins.
-- Scott Piercy, who snuck into East Lake at No. 30 on the FedEx Cup points list, needs to win the Tour Championship with McIlroy finishing in last place, Woods finishing in a three-way tie for sixth or worse, Watney in a four-way tie for third or worse, Mickelson finishing T-3 or worse, Snedeker finishing in a three-way tie for second or worse and Louis Oosthuizen finishing T-2 or worse. Hey, it could happen!
-- McIlroy most likely will win this thing with a top-five finish as long as one of the other top-five don't go on to win. So that's good for him.
-- Dustin Johnson wins the Tour Championship and McIlroy finishes in a three-way tie for second or worse with Tiger finishing T-2 or worse. Could you imagine if Johnson won and Woods finished second alone? That would be fantastic. This is one of the scenarios that makes the FedEx Cup fun to watch.
So the question goes from what are the chances of a cool finish at the FedEx Cup to if this is the best way to do the thing.
My initial thought is that I like that the points get reset because the goal of a playoff system is to make it exciting to the end and this does that. If the points didn't get reset, McIlroy could sit at home in Northern Ireland and still collect the $10 million check, so making the final push more exciting by allowing everyone a chance to win makes the playoffs good.
But are they great? Not yet. There still needs to be a better correlation between the first three tournaments and the final, and if that means match play, with No. 1 going against No. 30, and on down the line, then that might be the best way to go about it. (Think U.S. Amateur -- you play stroke play to get your seed, and then match play would decide a champion.) With $10 million on the line, every putt in a match play event gets enhanced and we might actually get to see some guys really fall apart under the pressure of a nice retirement.
We can all say that 2012 definitely has been the best year so far for the FedEx Cup playoffs, and a chance for Woods and McIlroy to battle for not only this week's championship but the entire playoff trophy is a best-case scenario for the PGA Tour and FedEx.
Now, if only all the big names show up for one more week.
The U.S. team is clearly jacked up for this event

A judge has ordered Green Jacket Auctions to take down some of its merchandise

Another player was disqualified before match play began because he failed to sign his scor...
The Solheim Cup starts this week, and Team USA is ready

Every is riding a three-tournament streak of made cuts

The former FedEx Cup champion won't be participating this season