What will Tiger Woods be wearing this week at the U.S. Open?
We might not know what Tiger Woods will shoot this week at the U.S. Open, but Nike has released what he will wear for all four days at The Olympic Club.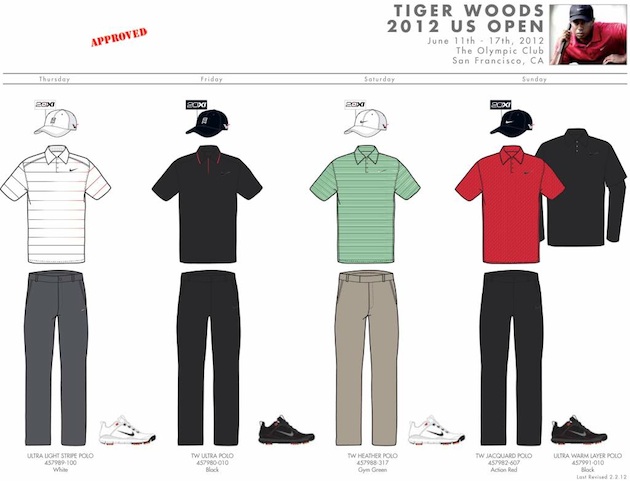 Tiger Woods' outfits for this week's U.S. Open are already picked out prior to his arrival at Olympic Club. (Nike)
The U.S. Open kicks off this week at The Olympic Club, the second major of 2012 and arguably the toughest test in golf. It also gives Tiger Woods another chance to add to his major championship resume as he's looking for his first U.S. Open title since 2008. 
Nobody knows what he will shoot this week in San Francisco, but we do know what he's going to wear, thanks to the above photo released by Nike.
I must say, I'm partial to his Saturday outfit, but red on Sunday? I'm shocked!
The next season of golf has a real chance to be one of the best any of us has ever seen

This season will fascinate as old stars converge with up-and-coming superstars

With a single golf lesson up for auction, Tiger Woods changed some lives forever in Texas this...
The Days have had a rough 2017 from beginning to end

Why in the world would a former FedEx Cup winner hop on 24 hours worth of flights this wee...

Following the debacle at the ANA Inspiration earlier in 2017, Thompson has some thoughts