What would be our dream singles matchups for Sunday at Ryder Cup
We examine who we'd like to see go up against each other on Sunday at the Ryder Cup, and the list ends with a matchup you might not expect.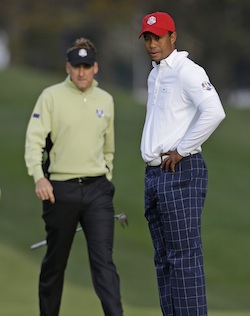 Ian Poulter vs. Tiger Woods would be an incredibly competitive singles match. (AP)
The singles pairings always decide the Ryder Cup. While we won't know which players go up against each other until later, we figured predicting who will play, and who we hope plays, would be worth our time. Here is who we hope gets paired together on Sunday for the conclusion of the 2012 Ryder Cup at Medinah.
Click here to see Sunday's matchups. 
Match No. 1 -- Steve Stricker vs. Martin Kaymer -- Honestly, the way these two are playing, I want them out on the course as early as possible and out of the way of the real action. How many bogeys can win holes in a Ryder Cup match, three? Five? 11? This one could answer that question.
Match No. 2 -- Jim Furyk vs. Francesco Molinari-- This is no knock to either of these guys, but go ahead and pair them together because it isn't like the networks plan on showing any of their shots to begin with. Also, comparable golf games that will most likely end in a solid match.
Match No. 3 -- Matt Kuchar vs. Lee Westwood -- While Westwood is having a terrible week, Kuchar has rolled when he has been put out there by captain Davis Love III, and both are the types of guys that want to beat the heck out of each other without really showing it. Kuchar needs a big name to go against, and hopefully Westwood would get going against the consistent machine that is this American.  
Match No. 4 -- Zach Johnson vs. Luke Donald -- Just seems right here, with Johnson wedging it close and Donald showing off his spectacular short game. Donald hasn't had his best stuff this week, as is the case with a lot of the big-name Europeans. But this is one of those random singles matches that I'd love to get out and watch. 
Match No. 5 -- Jason Dufner vs. Peter Hanson -- Has there ever been a match in which neither player showed any emotion for 18 straight holes? That is my goal here. 
More on the Ryder Cup
More Golf coverage
Match No. 6 -- Brandt Snedeker vs. Paul Lawrie -- The American rookie gets his chance against someone that you'd almost consider a re-rookie since he hasn't been on the European team since 1999. 
Match No. 7 -- Webb Simpson vs. Graeme McDowell -- An Olympic Club rematch, with McDowell trying to get revenge on Simpson, who stole this year's U.S. Open with that incredible par on the 72nd hole. Simpson can get fired up, McDowell gets some high energy if he can get things going, and both of these guys would rather go later in the day than early. 
Match No. 8 -- Bubba Watson vs. Sergio Garcia -- Both are obviously extremely emotional, and both can pull off some amazing golf shots. But they both can also get down on themselves when things go bad, so it would be interesting to see the range of emotions in an 18-hole match between them. 
Match No.  9 -- Dustin Johnson vs. Nicolas Colsaerts -- Hit. It. Hard. Galleries would be huge for these long-hitters. 
Match No.  10 -- Phil Mickelson vs. Justin Rose -- While both have been solid all week and are veterans for their teams, Europe needs to throw a big gun at Mickelson in hopes of slowing down the three-point man. If the Europeans made a run, this is one of those matches that they'd be circling that would have go their way, and Rose seems like the type of player who would love to draw the hot hand if Jose Maria Olazabal asked. 
Match No. 11 -- Tiger Woods vs. Ian Poulter -- No love lost between these two (remember the Hank Haney story?), Tiger wants to beat Poulter's brains out and the European would love to get a crack at Tiger in singles. I know a lot of people want McIlroy to go up against Tiger, but I'd much rather see these two battle. It would take both their golf games to a different level. 
Match No. 12 -- Keegan Bradley vs. Rory McIlroy -- Yep, this is the one. I know Bradley wants McIlroy, and I know he'd be absolutely amped up for if this draw went his way. McIlroy is one of those players who could handle Bradley's fist-pumping all day, and getting the hot-handed American would do a lot for McIlroy's game. 
Big Cat gets paired with an American hero for the first few rounds at Torrey Pines

SportsLine's Mike McClure, a DFS pro with more than $1M in winnings, gives optimal lineup...

Faldo breaks down important notes for the return of Tiger at Torrey Pines this week
From The Golfboard to TopTracer, the stuff you may not know about about rocked Day 1 in Or...

Stick with CBS Sports throughout the week for the latest from the PGA Merchandise Show

There will be over 1,000 companies showing off their stuff in Orlando, Florida, this week