Who is most likely to 'Darren Clarke' this year's Open Championship?
Darren Clarke shocked the world at last year's British Open, so who is most likely to do it this year at Lytham?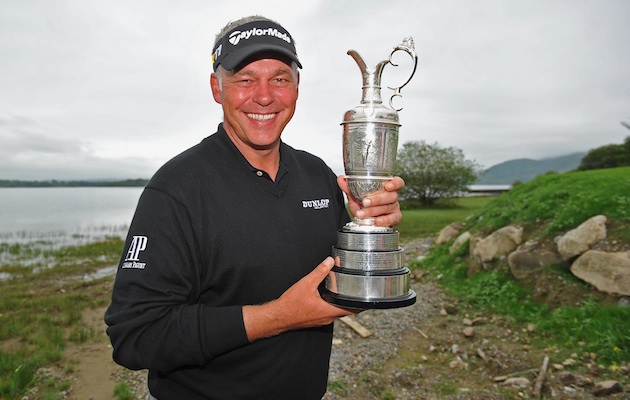 Darren Clarke surprised everyone when he snagged the Claret Jug in 2011. (Getty Images)
A year ago, Darren Clarke stole the British Open, winning his first ever major championship when nobody gave him a chance. He seemed past his prime, done with this type of tournament, but his game showed up at Royal St. George's and he was the champion golfer of the year. 
So while we spend plenty of time on the favorites like Tiger Woods and Luke Donald, little is given to the group of guys that could do what Clarke did last year. 
Here is our best guess at which player has the chance to pull a Clarke at this week's Open.
Lee Westwood -- Okay, okay, I know he is far from some sort of sleeper, but the guy is molded very similar to Clarke. In his 40s, from the UK, never won a major, high expectations for a lot of his career; Westwood winning this thing would be huge for golf, and I'm sure he'd enjoy the, umm, spirits of winning as much if not more than Clarke. 
Miguel Angel Jimenez -- The thing about the Mechanic is it has never really mattered how he's played heading into events he's won. Jimenez is the type of free-willed spirit that resembles the way Clarke goes about things, and he definitely has the game, and the mentality, to bag a major championship before he turns 50. The last two years, he's finished in the top-27 at this event and if nothing else, Jimenez being in contention means we get to see a lot more of this. 
K.J. Choi -- I have always felt like Choi would win the Masters one day. He seemed to play well at Augusta National and that type of golf suited him. That said, I also think he's the kind of 40-something that could still snag a major of any kind, and he hasn't played poorly at the British in the past. Choi is coming off a strong T-15 at Olympic Club, and followed that up with a T-13 at the John Deere. If Choi gets into contention, it could be the area between his ears that could lead him to a surprise win at Lytham. 
Carl Pettersson -- If this tournament would have been a month ago, I would have liked Pettersson's chances a lot more, but he did finish T-17 at the Greenbrier and closed with a 67 at the John Deere to jump some spots on the leader board. Pettersson's record at the majors isn't anything to brag about, but he's having one of his best years on tour, and could put himself into contention with how well he's rolling the rock. 
Thomas Bjorn -- In my opinion, one of the better story lines possible at any British Open, Bjorn winning would have been more epic a year ago, but the guy still can play links golf. He's had two T-2 in this event over the years, and fourth place alone a year ago at the site of his collapse, Bjorn is Clarke without the huge smile. 
Riviera is the home of this week's 117th U.S. Amateur

A bunched-up leaderboard could be dominated by last year's Open winner

The scores are preposterously low in Greensboro thus far
Dealing with a rib injury, McIlroy considered sitting out the rest of the 2017 golf season

The No. 41 player in the world is all about core strength and his short game

The U.S. team is clearly jacked up for this event