Who will Davis Love III take with his four Ryder Cup captain's picks?
On Tuesday, Davis Love III will announce his four Ryder Cup captain's picks, so we take a look at who he's going with.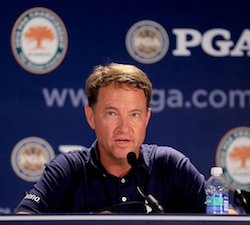 Davis Love III already said he knows who he's picking on Tuesday. (Getty Images)
One of the biggest announcements in golf comes on Tuesday morning, when Davis Love III will take to the microphone and let the country know just which four professional golfers will be joining his American Ryder Cup team in search of a win later this month at Medinah. Eight golfers are already locked into Love's team, but he gets to choose four more to complete the squad and the debate is heating up over which guys will get the nod. 
Love already said he knows who he's going with in this tweet from Sunday evening, but who exactly is he going to pick, and who should he pick? We take a look at both. 
Who Love Will Pick
Steve Stricker -- Probably the only lock of this entire group is Stricker, who has played fine golf this season and seems to be the favorite partner for Tiger Woods in these team formats. Stricker didn't automatically qualify for the team, but he has a win this year and has three top-five finishes in his last five starts, and is T-16 heading into the final round of the Deutsche Bank Championship.
Jim Furyk -- Captains love veterans, even if they have a spotty Ryder Cup record, and Furyk is the veteran that just won't get overlooked by Love. Furyk isn't exactly lighting it up in these playoffs so far (he missed the cut at the Barclays), but I think he's done just enough, and is playing just well enough, to land a spot ahead of some of the younger guys that might be more deserving in this moment. You can roll the dice a lot of the times with captain's picks, but Love knows the safe pick here is Furyk, and will add him to his seventh Ryder Cup team.
Dustin Johnson -- Another thing captains seem to love is length (look at the Nicolas Colsaerts captain's pick by Jose Maria Olazabal), and Johnson definitely has that on his resume. Johnson came into the FedEx Cup playoffs knowing he had to shine to get Love's attention, and he's done exactly that, finishing T-3 at the Barclays and sits T-3 again this week at TPC Boston heading into the Monday finish. There might be guys out there that have had better years, but Johnson seems like the momentum pick here. 
Hunter Mahan -- It's been a brutal stretch for Mahan, who seemed like a lock to be on this team after his start to 2012 (two wins in his first seven starts), but for the available players out there, I think Love can't overlook Mahan. He has played in this event before, he has that envious golf swing, and he seems to be buddy-buddy with a ton of the players already on the team. I'm not sure he's the best available pick, but I think it's who Love chooses.
Who I'd Pick
Stricker -- Same as above, just too much experience and too easy of a guy to throw in the shuffle.
Furyk -- While I really don't like his record at this event, I think Furyk is the type of veteran player you need in the clubhouse and in the practice rounds. This year sure hasn't been the year of the steady Jim Furyk, but I think of what you've got on the table, you go with Furyk over the rest of the guys.
Johnson -- A week ago I wouldn't have said this, but how can you overlook someone this talented that is playing this well right now? The Ryder Cup is later this month, and you want the hot hand heading into it. I'd go with Johnson before Mahan and Rickie Fowler if I had to choose on Tuesday. 
Brandt Snedeker -- There are plenty of factors going against Snedeker making this team, but if you want someone playing solid golf right now that is one of the best putters in the world, you have to go with Sneds. I'd love to have him on a team and pair him with, say, Zach Johnson as the stealth assassins, and someone that can roll the rock is just as important to me as someone that has been on 12 Ryder Cup teams. 
Long John pumped one in at TwinEagles Golf Club in the final round

Woods confirmed that fans have cost him shots and trophies over his career

Augusta National could be planning to make some changes to the fifth hole
Bubba Watson is cruising, Justin Thomas is coming and Patrick Cantlay is still lighting it...

Watson got his jumper trashed by former NBA All-Star McGrady on Friday, but was more in his...

Rory McIlroy also bounced back nicely and Tiger Woods (unfortunately) missed the cut