Who would our captain's picks be if the Ryder Cup started tomorrow?
Davis Love III still has a few weeks to decide on the four golfers he's going to pick, but if he had to make the decision right now, here are the four we'd go with.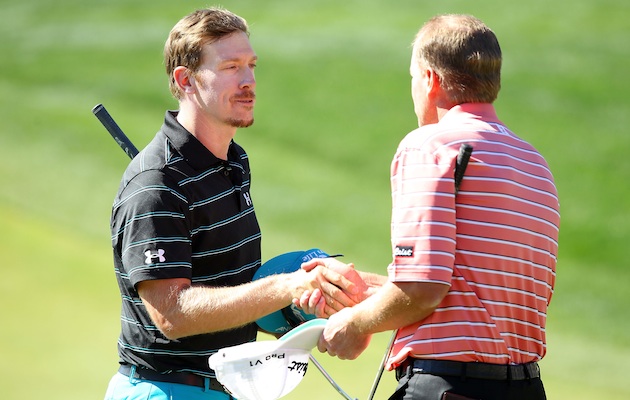 Hunter Mahan and Steve Stricker would make our Ryder Cup team if we picked. (Getty Images)
The automatic qualifiers for the American Ryder Cup team are all set (you can check them right here), but the strange thing about 2012 is there are some huge names that didn't make the team and will be at the fate of Davis Love III before he makes his final four choices by Sept. 4. 
We know who is in, but what about the other four captain's picks? Here are our four choices for the Ryder Cup following the conclusion of golf's final major of 2012. 
1.) Hunter Mahan -- It's still amazing to me that the guy with two PGA Tour wins in 2012 didn't make the team, but the points are all weighted towards the end of the season, and Hunter didn't play his best golf the last couple of months. That said, he still has two top-10s in his last six starts, and really is one of the most talented American golfers we have, especially when he's making some putts. Mahan was 4-1-0 at the 2011 Presidents Cup, a much better showing than his Ryder Cup record from 2010, and seems like an obvious pick to toss on the team if he has a good FedEx Cup playoff.
2.) Rickie Fowler -- A rookie the last time the Ryder Cup was played, Fowler made four straight birdies to close out his singles match and pull even with Edoardo Molinari and gain a half point for the Americans, something that gave them at least a shot at overcoming the red-hot Europeans (as you may remember, Graeme McDowell eventually beat Mahan to win the cup for the Euros). Fowler has trailed off since his incredible run in May, but his missed cut at the PGA was his first since the RBC Heritage and only his third missed cut of the season, so maybe just chalk that up to a bad week and move on from it. This American team has the potential to really bring some characters to Medinah, and having Fowler join up with a guy like Bubba Watson would really give the American team some appeal, along with a great young golfer.
3.) Steve Stricker -- Just a lay-up if you ask me in this format, especially if you're looking to team Tiger Woods up with someone he really enjoys playing with. In 2010, Stricker was 3-1-0 and at the '11 Presidents Cup he was 2-2-0, so he's been solid of late at these team events, and is just too steady with the putter to not have him in your arsenal of players. 
4.) Jim Furyk -- You need some veteran love on this team, especially with the three rookies already on the team and two more that have just played on one team before, so I think despite Furyk's putrid Ryder Cup record (8-15-4 in his career), you have to go with him. Why? Because he was absolutely dominant at last year's Presidents Cup (5-0-0!), and I have a feeling that Furyk has something to prove to himself and the rest of the golfing world after his meltdowns at the U.S. Open and the Bridgestone. Furyk is still an incredibly steady player, and you want a veteran like this on the team, even if his previous record says otherwise.
It's the second time Phil Mickelson missed the cut in his first tournament of a season

Everything about the event so far this week has been a home run

Rahm lost his lead, but a 67 keeps him in the chase at CareerBuilder
Koepka is looking to recover in less than three months to play at Augusta National

Thomas Pieters and his Ryder Cup partner could go at it for a title this weekend

Phil Mickelson returns and the Web.com Tour is cleaning up