Winners and losers from a great British Open week
The British Open wrapped up on Sunday, and it gave us some incredible winners and some disappointing losers.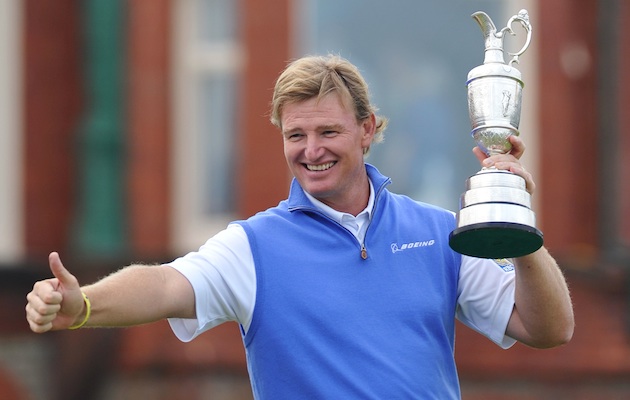 Ernie Els raised the Claret Jug for the second time in his career, but who else made our 'winners' list? (Getty Images)
The 2012 British Open ended like nothing we expected, but down the stretch it was completely drama filled. A big putt here, a missed putt there, and our former champion was crowned. So who won and who lost this week at Royal Lytham & St. Annes? 
Winners
Ernie Els -- As we've always said, the guy that actually won the tournament is going to be here, but honestly, how incredible is it that a guy that nobody had pegged to win this thing when he teed off on the last hole actually did it?! Ernie's win will go down as one of those most surprising ever, because even when he was doing it we didn't really believe it would happen. His putt on the 18th hole is stuff of legends, especially how he banged it in the back of the cup, and this major championship victory has to be the sweetest for Els. 
Nicholas Colsaerts -- I'm sure the long-hitting Colsaerts would love to forget his second round 77, but his bookend 65s were impressive, and enough to snag him his first ever top-10 in a major. Sure, the two-time European Tour champion might have wanted more, but that closing round of 5-under was as impressive as anything on Sunday at Lytham.
Tom Watson -- The five-time British Open champion didn't exactly light it up on the weekend, but the fashion he made the cut was incredible. Standing over a birdie putt on the 17th hole on Friday, Watson needed a little cushion to ensure he'd be around on the weekend, but he three-putted, putting him outside of the cutline. No worries, the 62-year-old who nearly won this event in '09 cashed a 30-footer on his final hole to make the cut on the number. Added bonus? He got to play with John Daly on Sunday! 
Geoff Ogilvy, Miguel Angel Jimenez & Ian Poulter -- Will these three really look back at Lytham and think positively? Probably not, but all three closed with 3-under rounds of 67, and all three jumped in the top-10 because of their salty Sundays. If nothing else, it added a little flair to the top of the leader board.
Losers
Adam Scott -- A really tough loss for the Aussie, and hard to call him a loser considering the way he handled the defeat (seriously, as classy as they come), but the four bogeys on the final four holes can't be ignored. Scott put himself in a great position to claim his first major, and pulled as big a choke as we've seen in the last few years. This one will haunt him for a while.
Graeme McDowell -- Again, another guy that isn't fun to hate on because he's a genuinely good guy, but McDowell has been in the final group in the last two majors and has shot a combined 8-over par at the 2012 U.S. and British Opens on those Sundays. McDowell was touted as the "tough finisher" but his play down the stretch in these majors shows he's ready to be in the hunt, but not ready to snag another big one. 
Rory McIlroy -- Since Rory's incredible U.S. Open win a year ago, his best finish in a major is a T-25, and he struggled again this week with all parts of his game, coming in at T-60 at Lytham. It wouldn't be so bad for Rory if he actually looked interested, but as each major passes, the young Northern Irishman seems less into the game, and more into getting done with his round. Hopefully for all of us his attitude changes before the PGA Championship.
Phil Mickelson -- Speaking of guys that struggled with both their game and their attitude, boy, what a strange week for Phil Mickelson. He never seemed to have a chance at making the cut, but more than that, he never seemed like he cared either way. Mickelson might get a lot of unwarranted criticism as times, but he always has a good attitude on the golf course, and this week, it was MIA. If nothing else, this week showed that links golf just isn't a food Phil is interested in tasting. 
All you need to know from tournaments, participants, field cuts and money distribution

From Rory McIlroy to Charley Hoffman, here's who could steal $10 million

ANGC is about to have its 7th chairman this fall
The No. 4 player in the world likely only has four or five tournaments left in 2017

This recent development in the golf world is not an encouraging one, and Vonn is not pleas...

Find out when and how to watch the 2017 Northern Trust live this week