Winners and losers from a great U.S. Open week at Olympic Club
The U.S. Open came down to the wire, but Webb Simpson eventually took it home, headling our winners while others were on the losers list at Olympic Club.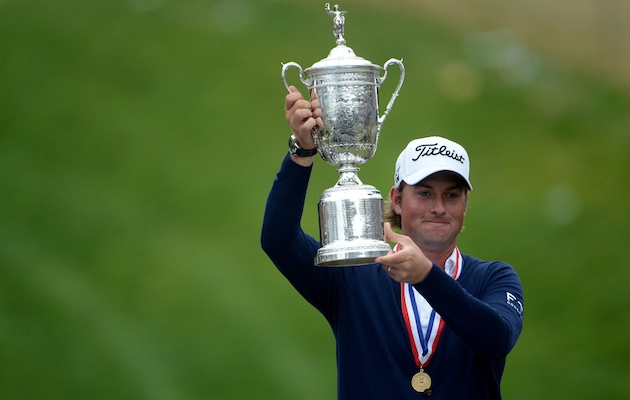 Webb Simpson leads our list of winners, while Tiger Woods was stuck in the losers column. (Getty Images)
SAN FRANCISCO -- The 2012 U.S. Open was undecided until the final group putted out on the 72nd hole, and at no point did anyone really know who would win until it was all said and done. And with all that excitement there are plenty of winners and losers from Olympic Club. 
WINNERS
Webb Simpson -- It's obvious that the winner is going to make the list, but man, what a weekend at Olympic Club for the young American. Two rounds of 68 at this golf course is almost cheating, and Simpson was able to do it on a weekend when consecutive low rounds almost seemed impossible. His play over the last 13 holes on Sunday was stuff of legends, but it is the up-and-down on 18 that eventually won him his first major and might have been the toughest shot he faced all day. 
Michael Thompson -- It was his first professional major, and just the second since he played as an amateur in both the Masters and U.S. Open in 2008, but the way he played these four days basically signs him up for another year on the PGA Tour. One top-10 and just four top-25s on the PGA Tour before Thursday, Thompson opened with a 66 and closed with a 67 (both low rounds of the day) and was a short birdie putt on the 17th hole away from a playoff on Monday. He might not have won, but I'm fairly certain he will leave this event with nothing but positives. 
John Peterson -- The 23-year-old product out of LSU was steady all week, shooting rounds of 71-70-72-70 to finish T-4 in his first ever major championship. Peterson has played in just five PGA Tour events ever, but he made some serious waves with his play at Olympic Club, which will get him in this event next season along with an invite to the Masters. If not for a double-bogey on the par-5 16th, Peterson would have had a real shot at a playoff with Simpson.
David Toms -- It wasn't exactly like 45-year-old David Toms was heading into this U.S. Open playing well. He'd missed two cuts before Olympic Club, but rounds of 69-70 had him tied for the lead after 36 holes. Sure, a Saturday 76 dashed his hopes, but unlike the other two men he was tied with on Saturday, Toms was able to put together a great Sunday round, posting a 2-under 68 to finished T-4, his best ever U.S. Open finish.
The USGA -- The last time the U.S. Open was held at Olympic Club, players were grumbling about setup and questioning pin placements. This time, it seemed Mike Davis and his crew got it right, setting the course up just tough enough to make it give players fits, but not too tough to where everyone was mad when they finished their rounds (on Sunday plenty of players including Phil Mickelson complimented the greens). Hit the ball in the right spots and low scores were out there. Miss the ball where you can't miss it and bogeys were definitely coming. It seemed both the Olympic Club and the USGA put together a great tournament and a championship that had a ton of top players contend at some point during the week.
LOSERS
Jim Furyk -- The guy is a true champion, and nobody doubts that, but he came in leading the U.S. Open and failed to make a single birdie all day at Olympic Club. His drives on Nos. 14 and 16 were the furthest things from typical Furyk as you can get, and his second shot into the 17th hole was nearly two clubs short of the green. Furyk's career would have changed if he had added a second major to his resume, and while he played great for three days, this Sunday will be a tough one to shake off. 
Graeme McDowell -- You could almost put Furyk and McDowell in the same group. Two former U.S. Open winners searching for that illusive second major and both atop the leader board on Sunday with a great shot at winning at Olympic. The problem was, Furyk's bad play was at the end while McDowell doomed himself at the beginning. Graeme gave himself a chance to win, and really played his tail off at the end, but it seemed he was set to add another major and just couldn't keep it together over his first nine holes. 
Tiger Woods -- What did you expect, we wouldn't talk about Tiger's weekend? He opened with rounds of 69-70 that forced some sportswriters to basically give him the championship, but his weekend was as wild as we have seen from Woods, missing fairways and greens and never getting a single ounce of momentum going. Tiger's T-21 was his second worst finish ever at this event as a professional, and while he still said after that there were positives from this week, it would be tough to find any of them. 
Phil Mickelson -- Paired with Tiger the first two days, it seemed like a man against boys, with Mickelson struggling to find fairways and hit any real decent golf shot. He made the cut, but his weekend wasn't pretty, and Phil, the guy that always seems to make loads of birdies, could only muster five all week at this Open. I don't see Phil taking any vacations to Olympic Club in his near future. 
Rory McIlroy and Luke Donald -- The top two ranked golfers in the world are supposed to contend at the biggest events on the planet, but both couldn't handle Olympic Club, missing the cut badly with sloppy play and confused looks. McIlroy's problem seems to be that he can't right the ship when things start to go south, while Donald's inability to hit his driver straight really haunts him at tough venues. Both have definitely made strides over the last two years to be elite players, but it's weeks like this that leave a lot of critics questioning just how dominant they could be. 
Following the debacle at the ANA Inspiration earlier in 2017, Thompson has some thoughts

Fowler is as good as it gets on the PGA Tour

The USGA and R&A have decided that you will no longer be able to phone in penalties
The Spaniard captures another piece of hardware during an all-time season

The man who ended on his bag in 2017 will apparently begin on it next year

This snowboarding ball flip and drive is simply spectacular