Winners and losers from the 2012 PGA Championship
Who won this week at Kiawah Island, and who lost? Here is our list.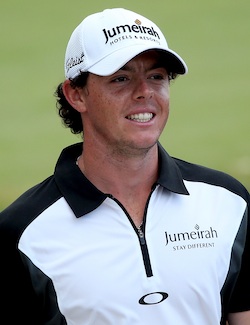 Rory McIlroy added a second major championship to his resume. (Getty Images)
The 2012 PGA Championship ended another major season, but with a ton of questions before the tour winds down. Who won this week at Kiawah Island and who will look back regrettably? Let's take a look.
Winners
Rory McIlroy -- So many stats can be used to backup his play, but honestly, do you need them? He blew away the field with a mixture of incredible ball striking and precise putting, and he showed that all this hype we surround him with is completely validated. Rory's Sunday was one of the best finishes in years at a major championship, and this win jumps him to No. 1 in the world. So, yeah, a pretty good week for the 23-year-old. 
David Lynn -- You might be looking at that name wondering who the heck David Lynn is, but he's an Englishman that finished in second place alone behind Rory in his first ever start in a PGA Tour event (Yep, first start ever). Lynn's weekend rounds of 68-68 moved him up the leader board and into a handful of big events next season starting with the Masters. 
Keegan Bradley -- A year ago, he was the big winner at this event, but it was a remarkable week for the defending champion, closing with a 4-under 68 to finish T-3. Bradley might have been an obscure champion a season ago, but with his play at events like this, a year later, you know he's going to be around for a while. 
John Daly -- Daly has been playing some inspired golf this season, and it seemed to all come together at Kiawah Island, when Daly finished T-18, his first top-20 in a major since the '05 British. Daly said that his game has been coming around, and all these made cuts he's had this season have helped his confidence, so it's nice to see him doing it on a big stage like the PGA. 
Seung-Yul Noh -- Talk about bringing your A game on Sunday at a major championship. Noh was outside the top-50 heading into his final round at Kiawah, but closed with a 7-under 65, the round of the week, to jump 35 spots and finish T-21. He sure didn't figure out Kiawah Island the first three rounds, but he tore it up on Sunday to card his best finish ever at a major championship. 
Losers
Hunter Mahan and Rickie Fowler -- Two Americans that were desperately trying to get one of the eight automatic bids on the Ryder Cup team, both failed to make the cut this week and are both now going to be at the mercy of Davis Love III. Mahan was ninth in points, just a spot out, but played poorly at Kiawah while Fowler needed a big week but couldn't handle the blustery winds on Friday and failed to make the weekend as well. 
Lee Westwood -- Not his best end to the major season after a hot start, with a T-45 finish at the British and a missed cut here at the PGA. Westwood is definitely one of the best players in the world without a major win, but they say it's tough to buck that title if you can't even make it to the weekend. 
Vijay Singh -- If Rory went nowhere but up over the weekend, Vijay did the opposite, shooting 74-77 on Saturday and Sunday to drop all the way down to a T-36. Singh is nearing his Champions Tour eligibility, and for a couple of days looked completely comfortable with the youngsters, but his play over the final two days was spotty and his putter disappeared. 
Tiger Woods -- Another disappointing major championship for Woods, who once again gave himself a shot at winning after two days but just couldn't find the magic over the weekend. Tiger had a birdie putt on his 72nd hole that he failed to make, meaning Woods didn't break par a single time over the weekend at any of the majors this season. To add insult to injury, Woods said after his round on Sunday that he had gone away from his game plan, and was "too relaxed," a strange admission from the guy that always seems to bring the intensity to the golf course, no matter if his game made the trip.
Kiawah Island -- Besides saying the course is beautiful, I don't think there are going to be a ton of compliments fired from players and fans alike. The course is extremely long, but the grass takes away a "links style" game of golf, and logistically it's just too much of a nightmare for anyone traveling to the course (my sister lives just outside of Charleston and turned down free tickets on Friday because travel was upwards of 2 hours and change just to get out to the island). It is a beautiful golf course, but it seems that because of some of the other factors, the PGA should probably lose this number the next time they're trying to find a golf course to host a major championship. 
More from the PGA Championship
The Americans still trail by two points entering singles action on Day 4 in Australia

It's been a not great week for Team Reed either on the course or off it

Find out when and how to watch the 2019 Presidents Cup live this week from Australia
Thomas and Woods dominated the first two days at Royal Melbourne, but Woods will be taking...

See what we're loving this holiday season for your favorite golf fan

Thomas paid back captain Tiger Woods for his Day 1 heroics with a strong finish at Royal Melbourne